OUTSTANDING SUPPORTING ACTOR
Chad Duell
(
Michael Corinthos
,
General Hospital
)
It wasn't the third but rather the fourth time that was a charm for Chad Duell, who won his very first Emmy after three previous tries. Surprisingly, those three prior nominations were all in the Younger Actor category, whereas this was in the Supporting category -- rumored to be the toughest category of all.


"Thank you God, first and foremost, for everything, " Duell said as he took the stage to accept his award. "And [for] blessing me that I am able to do a job like this that I love and get paid for... is great."


"I was nominated three times as a younger actor, and I was kind of used to hearing other people's names... so I'm very surprised that this happened to me," Duell said, adding that he's really been enjoying the darker side of his Port Charles alter ego (which was showcased in his reel). "They've been wanting me to change and kind of be more of a darker character like that. But me as the actor, I never saw a real strong justification to start making him dark. But they provided the opportunity, with Sonny [Maurice Benard] shooting AJ and all these lies, and that was a strong enough shift in that character to make him completely different. So yeah, I'm enjoying it, and it makes sense that he's that way. It's not forced, and it's a lot of fun. I like playing kind of a jerk."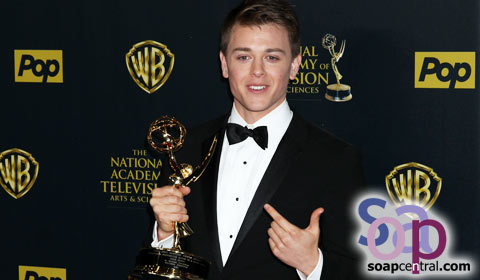 And where does he plan to keep his golden statue? "Kristen [Alderson, ex-Kiki Jerome] has one, my girlfriend, so maybe facing each other. We'll find some weird way of putting them together," he said before joking: "She has it sitting on some random pedestal in her bedroom right now, so if a robber is coming in, he'd be like [stealing motion], 'Alright!'"


Duell joined GH as Michael in 2010.



OUTSTANDING SUPPORTING ACTRESS
Amelia Heinle
(
Victoria Newman
,
The Young and the Restless
)
Amelia Heinle's lucky streak continued, garnering the actress with yet another Emmy win. And though she was surprised to have trumped her co-star Elizabeth Hendrickson (ex-Chloe Mitchell) last year, she was even more shocked to have done so again this year -- which resulted in a breathless acceptance speech in which she forgot to thank her husband.


"I think I spent most of my time gasping for air," she joked of her speech, after mentioning her mouth was dry and she had celery in her teeth. "I honestly didn't think I was going to win. I wasn't prepared. I'm happy that I won; it's always nice to be a winner... This time I'm a little more in shock, because twice, two times in a row, I totally thought somebody else would have a chance. But you know what, thank you, I take it. It's a cool experience."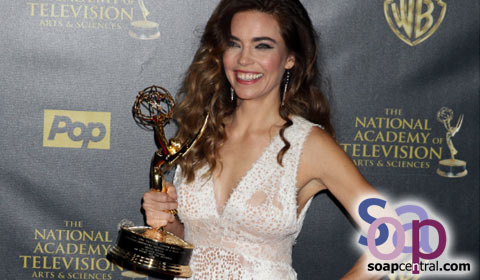 Although, she admitted she's a little scared to face Hendrickson. "I wanted her to win, and I really thought she would win this year," she said. "She totally deserved it. She's such a great actress. She should come back to daytime; she'll definitely win. She does such a beautiful job with her character, so again, I'm shocked about it. I thought she should have won last year, too. But I accecpt it. And yes, I'm scared!"


This back-to-back win marks Heinle's second nomination and Emmy triumph. She is the first Y&R actress to win more than once in the category, and the first actress to ever win back-to-back trophies in the Supporting Actress field, a category that was introduced in 1979.


Heinle began her run in daytime 22 years ago as Steffi Brewster on ABC's 30-minute soap opera, Loving. She then moved to All My Children for a three-year run as Mia Saunders, followed by a move to Y&R in 2005.


The last time a Y&R actress won in the Supporting category (prior to Heinle's first win last year, of course), was Sharon Case (Sharon Newman), who did so in 1999.


» PART THREE: YOUNGER ACTOR AND ACTRESS