THE 39TH ANNUAL DAYTIME EMMY AWARDS
A Daytime Emmy Fashion Review
Posted Tuesday, June 25, 2013 2:34:34 AM
After the Red Carpet had closed and all of the golden statuettes had been given out, Days of our Lives/All My Children star Chrishell Stause and soapcentral.com's Dan J Kroll sat down for a review of the fashion hits and misses at this year's Daytime Emmys. They were joined by General Hospital's Haley Pullos and a live audience.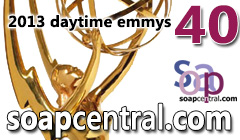 40th Annual Daytime Emmys
It's daytime television's biggest night.
soap
central
.com
has all the Emmy angles covered. Select an option from below to link to more information.
»
Emmy Central home page
SPECIALS
»
Chrishell, Haley back for more
soapcentral.com Red Carpet
»
This year's hosts and presenters
»
In Memoriam tribute planned
PRE-GAME SHOW
»
2013 Emmy nominees
»
Nominee reaction to nominations
»
VIDEO: Watch the nominees' Emmy reels
»
We predict the winners
»
This year's pre-nominees
THE MAIN EVENT
»
Complete Emmy coverage
»
Supporting Actor/Actress
»
Younger Actor/Actress
»
Writing/Directing Teams
»
Lead Actor/Actress
»
Drama Series
»
Creative Arts Winners
»
List of all the winners
BEHIND-THE-SCENES
»
EXCLUSIVE Video interviews
»
Emmy Fashion: Red Carpet
»
Emmy Fashion: Best/Worst and Then and Now
»
Inside the Emmy gift bag
PREVIOUS COVERAGE
»
2012 Emmy Coverage
»
2011 Emmy Coverage
»
2010 Emmy Coverage
»
2009 Emmy Coverage
»
Daytime Emmys Archive
SOAPULARITY: WHAT'S TRENDING