Every year, the brightest stars from the world of daytime television turn out for the Daytime Emmys, an awards ceremony that celebrates the best from the past year of daytime programming. This year, two of your favorite soap stars will be working the Red Carpet with soapcentral.com.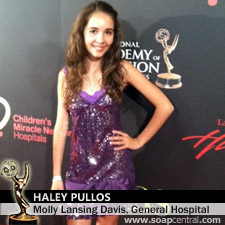 General Hospital's Haley Pullos (Molly Davis) and All My Children veteran Chrishell Stause (Amanda Dillon) will join soapcentral.com's Dan J Kroll to bring fans interviews with daytime stars and this year's nominees, to offer an eye-opening look at this year's Red Carpet fashion, and to get the behind-the-scenes stories that only soapcentral.com can bring.


Haley Pullos joined General Hospital in 2009, playing the role of the precocious daughter of attorney Alexis Davis. Haley also knows a little something about awards -- she's a four-time Young Artist Award recipient. Haley was also pre-nominated for a Daytime Emmy in 2011.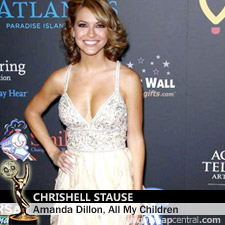 Chrishell Stause will go inside this year's Daytime Emmys to get the dish on one of her favorite things -- fashion. She'll get the skinny on who was wearing who and who had the most bling, and she'll offer her picks for Emmy Night's fashion hits and misses.


Chrishell appeared on All My Children from May 2005 through the series' finale in April 2011. She was pre-nominated for Daytime Emmys in 2008, 2010, and 2011. Chrishell is also a nine-time soapcentral.com Dankies winner.


PHOTOS: CHRISHELL STAUSE'S RED CARPET LOOKS


For the second consecutive year, soapcentral.com will be partnering with VoiceAmerica.TV, a leader in streaming, on-demand programming. The partnership will make it possible for soap fans to connect with their favorite soap stars via exclusive video interviews.


VoiceAmerica.TV also offers multiple channels of 24-hour streaming programming covering topics on entertainment, health and wellness, business, sport, and other informational services and topics.



39th Annual Daytime Emmys
It's daytime television's biggest night.
soap
central
.com
has all the Emmy angles covered. Select an option from below to link to more information.
»
Emmy Central home page
SPECIALS
»
GH, AMC stars co-host soapcentral.com Emmys
»
Emmys to be broadcast on HLN
»
Younger Actor/Actress offed?
PRE-GAME SHOW
»
2012 Emmy nominees
»
The nominees' Emmy reels
»
We predict the winners
»
This year's pre-nominees
THE MAIN EVENT
»
Complete Emmy coverage
»
Supporting Actor/Actress
»
Younger Actor/Actress
»
Writing/Directing Teams
»
Lead Actor/Actress
»
Drama Series
»
Creative Arts Winners
»
List of all the winners
BEHIND-THE-SCENES
»
EXCLUSIVE Video interviews
»
Emmy Fashion: Red Carpet
»
Emmy Fashion: Best/Worst and Then and Now
»
Inside the Emmy gift bag
PREVIOUS COVERAGE
»
2011 Emmy Coverage
»
2010 Emmy Coverage
»
2009 Emmy Coverage
»
2008 Emmy Coverage
»
2007 Emmy Coverage
»
Daytime Emmys Central
SOAPULARITY: WHAT'S TRENDING