For the first time in 37 years, the Daytime Emmy ceremony was held somewhere other than New York or Los Angeles -- Las Vegas, Nevada. The move was an attempt to reinvigorate the three-decade-old awards ceremony and lure in new viewers. And, with its Sin City nickname, there was something rather appropriate about the gambling mecca honoring the best and brightest of daytime television.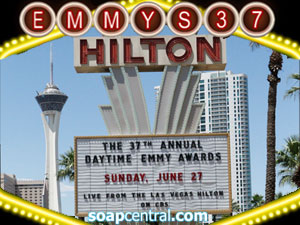 "Obviously the guy who named Las Vegas 'Sin City' has never visit Pine Valley, or Port Charles, or Salem," host Regis Philbin said in his opening monologue.


The opening monologue was just one of the ways that CBS hoped to capture viewers' attention and keep them watching through the hour. One of the telecast's producers, Jim Romanovich, told soapcentral.com that the goal of the Emmy broadcast was to entertain viewers of all backgrounds and to prevent them from wanting to flip the channel.


To help capture some of the energy of the Las Vegas Strip, the Daytime Emmys called on some of Las Vegas' more notable institutions to help celebrate the best of daytime. On hand were the Blue Man Group, cast members from the Las Vegas production of the Lion King, and performers from Cirque du Soleil's Ká. The telecast opened with renowned magician David Copperfield making Philbin appear from out of thin air.


After his spectacular entrance, Philbin launched into his trademark cutting wit. He mused that he'd seen Susan Lucci playing slot machines the night before, but that "she had to pull the lever 19 times before she won anything," a muse on the actress' infamous run as an Emmy bridesmaid.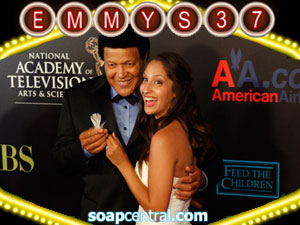 During the telecast, the National Academy of Television Arts & Sciences paid tribute to Dick Clark, whose American Bandstand ran in daytime for decades and helped to change pop culture. The tribute, helmed by Ryan Seacrest, featured performances by some of the artists whose careers where launched by Bandstand. Marie Osmond, the Spinners, and Tony Orlando performed some of their greatest hits, while Chubby Checker led the audience in "The Twist."


Amid the glitz and glamor, there were also moments to pause and reflect. This marked the final year of Emmy eligibility for Guiding Light, television's longest-running scripted program. Though nominated in three categories, the show did not win an Emmy. Its sister soap, As the World Turns, will finish its storied run in September, leaving yet another hole in the daytime drama lineup.


The news was not all bad for As the World Turns. The show picked up three acting Emmys, sweeping the Lead performers categories. Its CBS channel mate, The Bold and the Beautiful, won a second consecutive Outstanding Drama Series award.


» PART TWO: SUPPORTING ACTOR AND ACTRESS