Good news, soap fans. The 37th Annual Daytime Emmy Awards will be telecast this year. The ceremony will air live on Sunday, June 27, from a brand new home -- the Las Vegas Hilton, which marks the first time that the awards ceremony will take place in Las Vegas. The telecast will air on CBS.
"The Daytime Emmy Awards are one of the cornerstones of our business and we are thrilled to be back on CBS," said Herb Granath, Chairman, National Academy of Television Arts & Sciences (NATAS). "Last year's show was one of the most entertaining events in our history, and this year's Las Vegas-based broadcast promises to be even more exciting."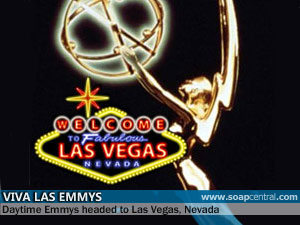 "Daytime series have a loyal and passionate following," said Jack Sussman, Executive Vice President, Specials, Music and Live Events, CBS Entertainment. "We're excited to honor these series and their viewers in primetime with this annual showcase."
The situation was much different last year when it seemed that no one wanted to broadcast the kudofest for daytime television. CBS was to have broadcast the ceremony, but it bowed out, citing low ratings and high costs for producing the show. Disney-owned ABC and SOAPnet passed on the opportunity to step in, and noted that they hadn't planned to broadcast the Emmys because it wasn't their turn. With NBC having dropped out of the broadcast cycle in 2004, the fledgling CW network stepped in at the last minute to provide a home for the telecast.
This year's telecast will once again be produced by Associated Television International, the group who put together last year's Daytime Emmy ceremony. ATI is credited with finding a new way to produce the Emmy telecast that reduces the expenses for the broadcasting network.
Ticketing information for the event has not yet been announced.
Nominations for this year's Daytime Emmys will be announced on May 12.