THE 35TH ANNUAL DAYTIME EMMY AWARDS
CBS dominates Emmy noms, DAYS returns to the ballot
By
Dan J Kroll

Posted Wednesday, April 30, 2008 12:11:02 PM
Share this story
To skip ahead to the list of nominees, click here

test

Nominations for the 35th Annual Daytime Emmys were announced live on Wednesday, April 30th from the set of ABC's The View. This year's announcement came more than a month later than normal. The delay was caused by changes to the voting procedure and the new June broadcast date for Emmy ceremony.


For a third consecutive year, CBS programming dominated the nominations for the Daytime Entertainment Emmy Awards. In the acting categories, CBS commanded all but seven of the 30 total nominations. Leading the way this year was perennial powerhouse The Young and the Restless with eleven acting nominations and a nomination for Outstanding Drama Series.
Drama Series
At the top of the ballot, General Hospital returned to the Outstanding Drama Series field. The ABC soap has nine wins in the "best soap" category, the most of any show. GH didn't make the ballot last year and some voters hinted that the show's Emmy reel focused too much on glitzy special effects and less on storytelling. This year's nomination marks GH's 21st nomination in the category.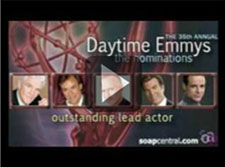 soapcentral.com now offers exclusive video analysis and commentary of this year's Daytime Emmy Awards.
Also nominated for Outstanding Drama Series are Guiding Light, One Life to Live and The Young and the Restless. Last year, Guiding Light and The Young and the Restless tied for top show honors. It marked the first time that there had ever been a tie in the category.
The Outstanding Lead Actor and Actress categories were near carbon copies of last year's ballot. Of the ten total nominations in the two categories, eight nominees were also on the ballot last year. Of the remaining three nominees, just two are first-timers on the ballot: Thaao Penghlis (Anthony DiMera, Days of our Lives) and Nicole Forester (Cassie Layne, Guiding Light).
Among the men's field are four previous Emmy winners - David Canary (Adam and Stuart Chandler, All My Children), Anthony Geary (Luke Spencer, General Hospita), Peter Bergman (Jack Abbott, The Young and the Restless) and Christian Jules LeBlanc (Michael Baldwin, Y&R). Combined, the four performers have won an amazing 14 Daytime Emmys. LeBlanc was the winner in this category last year.
For the leading ladies, three of the five nominees are previous winners. Maura West (Carly Tenney, As the World Turns), last year's winner, is joined by Crystal Chappell (Olivia Spencer, Guiding Light), Nicole Forester (Cassie Layne, GL), Jeanne Cooper (Katherine Chancellor, Y&R) and Michelle Stafford (Phyllis Summers, Y&R). Chappell is a previous Emmy winner, taking home the trophy for Outstanding Supporting Actress in 2002. Stafford is a two-time winner. She was named Outstanding Supporting Actress in 1997 and Outstanding Lead Actress in 2004. Cooper, a seven-time Daytime Emmy nominee, was awarded a Lifetime Achievement Award in 2005.
Supporting Actor and Actress
Several new faces popped up on the ballot in the Supporting Actor field. Guiding Light's Daniel Cosgrove (Bill Lewis) and One Life to Live's Brian Kerwin (Charlie Banks) each earned their first Daytime Emmy nominations. Kerwin scored his show's only acting nomination this year. Cosgrove, meanwhile, eked his way back into daytime just under the wire for Emmy eligibility. Whereas other performers have a full year of material to wade through for their Emmy submissions, Cosgrove rejoined GL in mid-November and had just a month-and-a-half of material to choose from for his Emmy reel.
For the women, Kelly Menighan Hensley (Emily Stewart, As the World Turns) earned her first nomination since 2002. Judi Evans, a previous Daytime Emmy winner in the Supporting Actress category, scored Days of our Live's first Outstanding Supporting Actress nomination in eight years.
In 2000
, Patrika Darbo (Nancy Wesley) was nominated for her work. Evans won for her work as Beth Raines on Guiding Light in 1984. This time around, Evans is nominted for the role of Adrienne Kiriakis on DAYS. In a strange twist, oddly appropriate for a soap opera, Evans is also nominated for her work as Bonnie Lockhart - also on DAYS.
Several months after being let go
as the show's Bonnie, Evans was re-hired as Adrienne, a role she'd played previously from 1987 to 1993.
Absent from the ballot are last year's winners, both stars of General Hospital. Rick Hearst (Ric Lansing) was left out of this year's nominations and Genie Francis (Laura Spencer) was ineligible because she did not appear on the show last year.
Younger Actor and Actress
All three of The Young and the Restless' pre-nominees in the Outstanding Younger Actress category found their way to the final ballot - and all three are first-time nominees. Vail Bloom (Heather Stevens), Emily O'Brien (Jana Hawkes) and Tammin Sursok (Colleen Carlton) are joined by another first-timer, Days of our Lives' Rachel Melvin (Chelsea Benson). Jennifer Landon (Gwen Norbeck, As the World Turns) rounds out the ballot. Landon has won in this category in the past two years.
For the young men, only one of the five nominees is new to the ballot. Darin Brooks (Max Brady) earns his first nomination for his work on Days of our Lives. Van Hansis (Luke Snyder, As the World Turns), Jesse Lee Soffer (Will Munson, ATWT), Tom Pelphrey (Jonathan Randall, Guiding Light) and last year's winner Bryton McClure (Devon Hamilton, The Young and the Restless) were also nominated.