Not everything that goes on at The Daytime Emmys makes it to the live broadcast. Some of the most memorable - and crazy - things happen behind the scenes!

THE EMMYS ARE WINNERS THEMSELVES
Due to sagging ratings, CBS opted to air The Daytime Emmys telecast in June. It was the first time in over a decade the awardscast was not part of the May Sweeps. That may be because the show has been losing viewers ever since 1999, the year Susan Lucci won her Emmy.
This year marked a surprise turn for the telecast: ratings were up. The show ranked at the 11th most popular show of the week, with over 8 million viewers. That puts the ratings up by about 30% over last year's ceremony. Last year, if you recall, ABC hosted a three-hour celebration as the Emmys were broadcast from Hollywood for the very first time.

LOSING THE STIGMA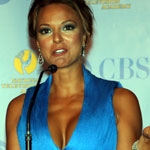 Eva LaRue
Along the Red Carpet
Emmy presenter and former Emmy nominees
Eva LaRue
(ex-
Maria Santos
,
All My Children
) discussed candidly the belief that daytime performers are somehow inferior to their primetime counterparts. While many daytime stars have left daytime to pursue opportunities in primetime, many -- including LaRue -- ended up returning to their daytime gigs because primetime shows were reluctant to hire soap stars. That is an attitude that the former AMC star says has changed.
"I think that started to change about three or four years ago," LaRue said. "People look for daytime people because they know you're a professional, with no room for attitude and you're an awesome performer."


LaRue notes that because daytime's rigorous taping schedule is so much more difficult than almost any primetime project, primetime casting directors now often seek out soap stars because the primetime tape schedule is a piece of cake for soap vets.
LaRue admitted that in the past she had been asked to leave her daytime work out of her portfolio for fear of not being hired for outside projects.
"I would ask 'What do you mean?' This is my blood, sweat and tears," LaRue gasped.
LaRue now stars in CBS's CSI: Miami.

DANGER ON THE RED CARPET
While it may never rain in Southern California, it does get hot. General Hospital star John Ingle (Edward Quartermaine) was overcome by the heat and collapsed along the Red Carpet.

Ingle was taken by ambulance to a local hospital where he was kept overnight for observation. Ingle was released from the hospital the following day.
---
2018 DAYTIME EMMYS: SOAP CENTRAL'S COMPREHENSIVE COVERAGE