Behind-the-Scenes Emmy Coverage: The Emmy Gift Bag
Posted Monday, June 18, 2007 12:57:01 PM
When in Hollywood, do as the Hollywoodians.


For the second year in a row, the Daytime Emmys featured a very fabulous gift room as a thank you gift to this year's presenters. As you may recall, there was a little contraversy last year when some fans learned that presenters were being given thousands of dollars in gifts to show up and read the names of Emmy nominees and winners. At the time, an insider explained to soapcentral.com that the gift bags were common in all forms of awards shows.


"The stars don't get paid to be here. They don't get paid to be a presenter," the insider said. "They are giving up their own time for free - so this is sort of a way to say 'Thank you' for being a part of this event."


While most of us will never be lavished with gifts just for showing up somewhere -- imagine showing up at your local pollng place and being given a brand new watch just for showing up to vote! -- this year's gifts proved that anyone on any budget can look and feel like a star. Here are a few of the products that we've picked as the best of the bunch among this year's swag.


NUTRISYSTEM
NutriSystem is a home-delivery diet program. For about $10 a day, program participants can purchase all the meals that they will need. Each day offers five separate meals - breakfast, lunch, dinner, a snack and dessert. Having five smaller meals per day is a proven way to help boost your metabolism and ensure that you're never hungry. The goal of NutriSystem is not just to help its clients lose weight, but to also be healthier.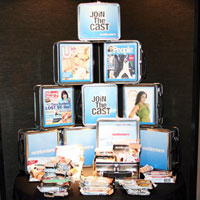 Unlike other programs, there are no Nutrisystem centers. Anyone that takes part in the NutriSystem program can meet with a counselor via the company's online web site or toll-free number. So after checking up on all your latest soaps, you can simply click on your bookmarks and keep up-to-date on your own personal weight loss.
NutriSystem offered a wide array of snacks in the gift room. For our samples,
soap
central
.com
chose a bag of caramel corn and a lemon blueberry bar. Both were very tasty treats and bore no resemblance whatsoever to the stereotypical "diet" snack.
Because of its online-only presence, Nutrisystem is available nationwide.
Desert Essence Organics
Desert Essence Organics are "100% organic and vegan skin and hair care products," a rep tells
soap
central
.com
. "They are also gluten, wheat, paraben and additive free."
Imagine these great scents, all of which are good for you and for the planet: pistachio foot cream, pumpkin hand lotion, apple shampoo and conditioner and a coconut hand lotion that smelled remarkably like a pina colada.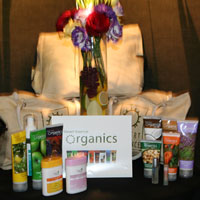 As tasty as the products may sound - and they smelled delicious - Desert Essence Organics offered what may have been the most innovative product among this year's swag: sunscreen towelettes. With just one towel - similar to a handi-wipe - you can protect your skin from the harmful effects of the sun.
Former All My Children star Eva LaRue (ex-Maria Santos) remarked that the towelettes would "be great for vacation." There's also no mess involved.
Desert Essence Organics can be purchased in specialty supermarkets, such as Whole Foods, as well as select supermarkets and health food stores.
PURPOSE
Wondering how the soap stars keep their skin looking so great -- even after being in makeup for hours and hours each day? For the past 15 years, Emmy nominee Rebecca Herbst (Liz Webber, General Hospital) has been using the PURPOSE skin care line from Johnson & Johnson.
photo of Rebecca and husband Michael Saucedo (ex-Juan Santiago, GH) from the Red Carpet -- and you can see just how beautiful she and her skin look!
PURPOSE, a line of fragrance-free, hypoallergenic and non-comedegenic skin cleansers, are "truly dermatologist recommended," a spokesperson for the company explained. One of the main reasons that so many people, including Herbst, love PURPOSE is because the cleanser is as gentle as water on the skin. It is also reasonably priced, proving that you do not have to spend hundreds of dollars to take care of your skin.
PURPOSE can be purchased in drugstores and stores like Target and Walmart.