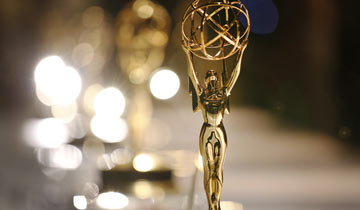 THE 33rd ANNUAL DAYTIME EMMY AWARDS
soapcentral.com panelists predict the Emmy winners: Mary Mosholder
By
Dan J Kroll

Posted Tuesday, April 25, 2006 10:38:53 AM
Mary is a regular viewer of As the World Turns (since 1993) and Guiding Light.(since 1988). She began watching soaps in grade school in early 80's when she watched the final months of Search for Tomorrow and then went on to watch The Young and the Restless. She has at some point been a regular viewer of all the soaps currently on the air with the exception of Passions. However ATWT and GL are the only soaps she's followed for an extended amount of time. Though she is mostly familiar with her own shows, she's tried to be objective and made her predictions based on who she felt had the edge over the fellow nominees. (it just so happened that most happened to be with her shows)
Previous Predictions
2004: Did not participate
2003
: 1 for 8
2002
: 2 for 8
2001
: 3 for 8
2000: 4 for 8
In the past I would have gone for GH or Y&R, but I really think this is GL's year. They had some exceptional stories last year and their reel showcased the best they had to offer.
As much as I love the GL actors, I'll have to go with Anthony Geary based on the scenes on his reel. Agonizing over the body of his comatose son and being forced to pull the plug? That kind of stuff gets to me, I'm thinking it should get the Emmy voters too.
Well, Susan Flannery is the favorite; I wouldn't be surprised if she won. However, I'm going to pick Beth Ehlers. She had some great stuff last year.
I want Jordan Clarke to win. He's been on GL for years, he's had a meaty story. From a sentimental standpoint I want him to win. However, I think Grayson McCouch will. I just really liked the emotional range in his Emmy reels.
Jennifer Ferrin. From hearing her son had died to getting involved in drugs, it just seems like her reel had more raw emotion than the others.
Tom Pelphrey. I think this will be his year. His stuff was great last year. If it's not him, I think it'll be Graziadei.
Jennifer Landon. She did some fantastic work; I think she'll be rewarded.
The Young and the Restless. We always hear about the high quality of Y&R's writing. I've watched some episodes last year and they were great.
href="/emmys/news/2006/0428-emmy_predictions_02.php">PICKS AT A CLICK (Check an overview of all our panelists' picks)
href="/emmys/news/2006/0428-emmy_predictions_kroll.php">DAN J KROLL (Soap Central Founder)
href="/emmys/news/2006/0428-emmy_predictions_jaegar.php">JAEGAR LI (Soap Central Staffer)
href="/emmys/news/2006/0428-emmy_predictions_lee.php">LIZ LEE (Soap Central Message Board Moderator)
href="/emmys/news/2006/0428-emmy_predictions_mosholder.php">MARY MOSHOLDER (ATWT/GL Character Profiler)