RED CARPET ARRIVALS:
THE NOMINEES
Have you ever dreamed of walking down the red carpet on Emmy Night? Well, even if you weren't able to attend this year's Emmy celebration, you can still revel in the glitz and the glamor of Emmy night. Following are photos of some of this year's nominees. Simply click on their snapshot and a full-size photo will open for your viewing enjoyment.
And don't forget to check out more of our Emmy photos in our
href="/emmys/news/2006/0428-emmy_coverage_fashion.php">Fashion section
.
Bryton McClure
Devon Hamilton, Y&R
Wearing: Dolce and Gabbana
Jennifer Landon & Jesse Soffer
Gwen Norbeck & Will Munson, ATWT
Renee Goldsberry
Evangeline Williamson, OLTL
Kim Zimmer
Reva Shayne, GL
Bobbie Eakes
Krystal Carey, AMC
Tom Pelphrey
Jonathan Randall, GL
Lisa Rinna
Co-host, Soap Talk
---

EVEN MORE PICS
Check out pictures of more stars in our Fashion section.
---
---
Share this story with friends, family or the world.

SEND TO A FRIEND
Email this article to a friend.

PRINTABLE VERSION
View a printer friendly version of this article
---
---
---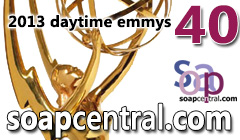 33rd Annual Daytime Emmys
It's daytime television's biggest night.
soap
central
.com
has all the Emmy angles covered. Select an option from below to link to more information.
»
Emmy Central home page
PRE-GAME SHOW
»
The Emmys go Hollywood!
»
2006 Emmy nominees
»
This year's pre-nominees
»
The nominees' Emmy reels
»
We predict the winners
THE MAIN EVENT
»
Supporting Actor/Actress
»
Younger Actor/Actress
»
Writing/Directing Teams
»
Lead Actor/Actress
»
Drama Series
»
Creative Arts Winners
»
List of all the winners
BEHIND-THE-SCENES
»
Emmy Fashion
»
Photos from Emmy Night
»
Behind-the-Scenes Gossip
»
Inside the Emmy gift bag
PREVIOUS COVERAGE
»
2009 Emmy Coverage
»
2008 Emmy Coverage
»
2007 Emmy Coverage
»
2006 Emmy Coverage
»
2005 Emmy Coverage
»
2004 Emmy Coverage
»
2003 Emmy Coverage
»
2002 Emmy Coverage
»
2001 Emmy Coverage
»
Daytime Emmys Archive
SOAPULARITY: WHAT'S TRENDING