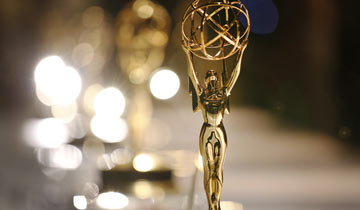 THE 33rd ANNUAL DAYTIME EMMY AWARDS
Behind-the-Scenes Emmy Coverage
By
Dan J Kroll

Posted Saturday, April 29, 2006 1:45:57 PM
Not everything that goes on at The Daytime Emmys makes it to the live broadcast. Some of the most memorable - and crazy - things happen behind the scenes!



IT REALLY IS AN HONOR JUST TO BE NOMINATED


Susan Lucci
Erica Kane, AMC
Much ado had been made about
Susan Lucci
's (Erica Kane, All My Children) extensive run of Emmy nominations and lack of Emmy wins. However, there are other high-profile soap stars who, over the years, have also racked up an impressive tally of nominations without winning a Daytime Emmy.
Deidre Hall (Marlena Evans, Days of our Lives) picked up three nominations - a Supporting Actress nomination in 1980 and Outstanding Actress nominations in 1983 and 1984 - but has never been awarded with an Emmy statuette.
James Mitchell (Palmer Cortlandt, All My Children) earned six Emmy nominations over the years, including 1980, 1981, 1982, 1983, 1984 and 1988.

Jeanne Cooper (Katherine Chancellor, The Young and the Restless) has received six nominations, including nods in 1988, 1989, 1990, 1991, 1999 and 2005. All of her nominations - with the exception of the one in 2005, which was an Outstanding Supporting Actress nod - came in the Outstanding Lead Actress field. Ironically, in 2005, Cooper was awarded a Lifetime Achievement Award.
Other notable performers have never even received a Daytime Emmy nomination. Here are some that stand out:
Mary Beth Evans, a fixture on soaps including As the World Turns, Days of our Lives and General Hospital, has never received an Emmy nomination for any of her soap roles.
Peter Reckell, Bo Brady on Days of our Lives since 1983 (with a few breaks here and there).
Katherine Kelly Lang has played The Bold and the Beautiful's Brooke Logan Forrester since 1987. She has yet to receive a Daytime Emmy nomination.
Jerry Douglas, who has played John Abbott on The Young and the Restless since March 1982.



SWEEPING OUT SWEEPS


Soap Fans
Along the Red Carpet

Soap fans know that the Friday cliffhanger is typically the most dramatic episode of the week. And if you want more than just a single cliffhanger, you know to tune in during the ratings-crucial "Sweeps" periods.

So it would make sense that most of the scenes submitted for Emmy consideration came from either a Friday or sometime during a Sweeps period, right? Not necessarily.

Five of the eight clips submitted by the shows nominated for this year's Outstanding Drama Series category aired during a Sweeps period. None of the clips submitted by As the World Turns aired during a Sweeps period - the show's clips were from June and July. The Young and the Restless, on the other hand, coupled its powerhouse May Sweeps scenes of Cassie's death with a non-Sweep episode from December.

If you followed last year's Daytime Emmy coverage on Soap Central, you will remember that last year most of the nominees' Emmy reels also came from a non-Sweeps month: December.



EVERYTHING'S COMING UP ROSIE


Perhaps the best un-kept secret in Hollywood this past week was the news that The View had selected a new "moderator" to replace soon-to-be-departed Meredith Vieira. During the live Emmy telecast, the rumors were confirmed when Emmy winner and former talk show host, Rosie O'Donnell, took to the stage to tell presenter Barbara Walters that she's read the most interesting thing on the Internet.

"We are thrilled that Rosie, one of the greatest stars in the history of daytime television, has agreed to join us on The View," Walters said.

For her part, O'Donnell said that she was "touched and moved" to have been asked to join Walters and the other ladies of The View. But, of course, as with anything in Hollywood, there just has to be a little bit of gossip.

Within hours of the first reports that O'Donnell was headed to The View, off-shoot rumors hinted that O'Donnell's presence would result in Star Jones leaving the show when her contract expires. (Though the New York Daily News insinuates that Jones may be fired.) O'Donnell has been vocal about her belief that Jones' weight loss was the result of gastric bypass surgery and not exercise alone.
"If you have to have gastric bypass because you feel it's a medical emergency and you have no alternative, then you have that, and there are repercussions to having that," O'Donnell remarked, "but to pretend you lost it doing Pilates is kind of delusional."
Now that O'Donnell and Jones will be sharing the same stage, O'Donnell took the opportunity to address her previous remarks.
"You know, [Star] been a member of the View family from the beginning and she's a welcome member as long as she wants to be there. I have a tremendous amount of respect for her intellect," O'Donnell responded when asked to address the rumors that she and Jones do not get along. "She's an amazingly intelligent woman. She will go toe to toe with me, and that's what makes the show exciting and fun. I look forward to arguing with her starting in September.
O'Donnell vowed that her return to daytime television would be a celebration and that she would not be as -- using another reporter's word -- "cranky" as she was towards the end of her run on her self-titled talk show.
"Oh honey, you know, I can just say, even though Tom Cruise doesn't believe in them, antidepressants do work," O'Donnell dead-panned. "I needed to refuel myself to remind myself why I become a performer to begin with, and to get back in touch with who I was as a person, and surround myself with my family and kids. I always call it my four-year celebrity detox. And Barbara's been a friend since the beginning of my career. When she asked me, I said yes and I'll tell you the reason now. And she'll be angry at me, but no woman would be successful in television in any capacity if it hadn't been for Barbara Walters. She is a feminist superhero and she is a woman that all women in the entertainment industry look up to. If she asked me to do anything, I would say yes. Thankfully, she asked me to do The View and not her laundry. [But], I probably would have done that, too."

RATINGS FLASH



Adrienne Frantz
Amber Moore, B&B

Initial numbers for this year's Daytime Emmys were not as spectacular as ABC might have hoped. In the overnight numbers, which is described as "fast national data, which includes live and same-day DVR viewing," ABC's coverage of the Daytime Emmys ranked third in each hour of its broadcast. Overall, ABC's 4.7 rating trailed CBS's 7.5 and NBC's 5.5 ratings. UPN, FOX and The WB all trailed ABC.

Each ratings point equals a little more than 1 million viewers. Numbers are subject to change when all of the national data is compiled.




---
---
2018 DAYTIME EMMYS: SOAP CENTRAL'S COMPREHENSIVE COVERAGE
MAKING HEADLINES: NEWS FROM AROUND THE SOAPS
THE BOLD AND THE BEAUTIFUL
THE BOLD AND THE BEAUTIFUL
THE YOUNG AND THE RESTLESS
THE YOUNG AND THE RESTLESS
THE YOUNG AND THE RESTLESS
THE YOUNG AND THE RESTLESS