Rick Springfield. The Kodak Theatre in Hollywood. A "Fan Zone" to honor the fans of daytime television.


No, these are not your mother's Daytime Emmy Awards.


On Friday, April 28, 2006, for the 33rd time, the National Academy of Television Arts & Sciences (NATAS) honored the best and brightest stars of daytime television. But aside from the awarding of dozens of golden statuettes, this year's Daytime Emmys were far from ordinary.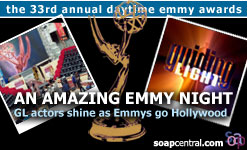 As previously reported, this year the Daytime Emmys went off on a little joyride, taking a road trip from New York City's Radio City Music Hall to Hollywood's Kodak Theatre. This marked the first time that the Daytime Emmys were held outside of Manhattan. While East Coast fans bemoaned the inability to hail a taxi or hop the sub to get to the event, ABC made sure that this year's West Coast-based production was glitzier than any Daytime Emmys in history.


Indeed there was a different feel to this year's Emmys - from the Red Carpet that wound a good quarter-of-a-mile (or more) from the intersection of Hollywood and Highland and up several flights of steps to a special seating area known as the Fan Zone to the more upscale fashion worn by the stars to the actual telecast itself. This year's Emmys seemed more like a meet-and-greet fan event than a stuffy awards ceremony. And in a first, soapcentral.com was granted access to this year's Emmy presenters' lounge -- the area where the celebrity gift bags are handed out. Find out what the stars received this year -- and how you, too, can enjoy living like a soap star for next to nothing!


The fans, while definitely more subdued than the fans of years past in New York, and stars alike -- and even the media -- all seemed to enjoy the venue switch. And if the positive buzz continues, it is quite possible that the one-time Hollywood visit could become something more permanent. According to insider buzz, the Daytime Emmys will be held at the Kodak Theatre for at least the next two years. Sources tell soapcentral.com before the executives in charge of the Kodak Theatre agreed to let ABC and NATAS hold the ceremony at the venue, they asked for a three-year commitment. CBS is scheduled to broadcast the Daytime Emmys next year, but the network previously had expressed its desire to hold the awards in New York.


No matter what the decision is next year, the show will go on. And that provides the perfect segue for our coverage of this year's 33rd Annual Daytime Emmy Awards coverage…


PART TWO: SUPPORTING ACTOR AND ACTRESS