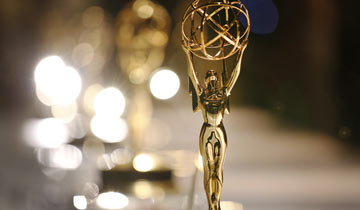 The 28th Annual Daytime Emmy Awards
ATWT leads Creative Arts Emmy wins
By
Dan J Kroll

Posted Thursday, May 17, 2001 10:16:34 AM
Share this story
In a ceremony held May 12th in New York City, the winners of the Creative Craft Emmy Awards were announced. The non-televised ceremony was held at the Marriot Marquis Hotel.
As The World Turns picked up the most wins during the ceremony, with 4. One Life to Live picked up two wins, though the show had received seven total nominations. Days of our Lives and Port Charles failed to win any awards. The bad news for these two soaps is that since they were shut out of acting awards, neither will have a chance at winning any awards this year.
Following is a complete list of the Creative Crafts nominees. Winners are denoted by bulletpoint (•).
---
Outstanding Achievement in Art Direction/Set Decoration/Scenic Design for a Drama Series
•
All My Children
•
•
•
All My Children
•
All My Children
•
"Beside Me,"
As The World Turns
•
All My Children
As The World Turns
Days of our Lives
•
All My Children
As The World Turns
The Bold and the Beautiful
•
All My Children
As The World Turns
•
This category is open to all programming, not just soaps.
• Between the Lions

Port Charles
The Rosie O'Donnell Show
---
The Final Tally
As The World Turns: 4 wins; 9 nominations
All My Children: 2 wins; 8 nominations
One Life to Live: 2 wins; 7 nominations
Guiding Light: 1 win; 3 nominations
The Young and the Restless: 1 win; 6 nominations
Passions: 5 nominations
The Bold and the Beautiful: 2 nominations
General Hospital: 1 nominations
Days of our Lives: 2 nominations
Port Charles: 1 nomination