Share this story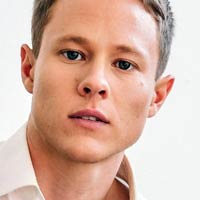 Guy Wilson
Wilson, a native of Northern California, began acting in community theatre when he was ten. In 2004 Wilson moved to Los Angeles to further pursue his passion for show business.
Of late, Wilson has guest starred on
NCIS,
Castle,
Bones,
Major Crimes,
Hawaii Five-0
and
Breaking Bad.
He had the lead role in the horror feature
The Midnight Game,
which was released on DVD in August 2014. Most recently, he was seen in the 2014 feature film
Swelter,
starring opposite Jean-Claude Van Damme, Alfred Molina, and Oscar nominee Catalina Sandino Moreno.
Days of our Lives
Will Horton
January 8, 2014
to
October 13, 2015
DATE OF BIRTH:
November 21, 1985
PLACE OF BIRTH:
San Francisco, California
RAISED IN
: Sebastopol, California
News Archive
: DAYS hires Guy Wilson as its new Will. [Sep 12, 20131]
News Archive
: DAYS EP Meng: No ugliness, weirdness in Will recast. [Nov 6, 2013]
News Archive
: Three-day event celebrates groundbreaking WilSon wedding. [Mar 30, 2014]
News Archive
: LISTEN: Guy Wilson visits Soap Central Live. [Sep 5, 2014]
News Archive
: Wilson previews Big League trouble ahead of Sonny and Will. [Dec 15, 2014]
News Archive
: Wilson, other soap stars share New Year's Resolutions [Dec 31, 2014]
News Archive
: DAYS honored in new Hollywood Museum LGBT exhibition [Jun 4, 2015]
News Archive
: DAYS' Sonny says an emotional goodbye as Freddie Smith leaves the canvas; will his on-screen hubby also be leaving town? [Aug 17, 2015]
News Archive
: DAYS' Guy Wilson takes on new project [Sep 7, 2015]
News Archive
: WilSon Update: Freddie Smith returns to DAYS, possibly for Will's funeral! [Sep 17, 2015]