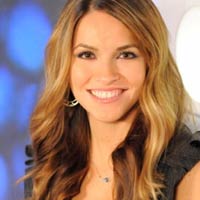 Chrishell Stause
Chrishell Stause joined the cast of All My Children in the role of Amanda Dillon in April 2005.
Stause was born and raised Draffenville, Kentucky (population: 1,000). She attended Murray State University where she received her B.A. in Theatre. At Murray State, she played Cecily in
The Importance of Being Earnest
, Shelby in
Steel Magnolias
, Mina in
Dracula
, Poopay in
Communicating Doors
, and Isabella in
Androcles and the Lion
.
Days of our Lives
Jordan Ridgeway
August 16, 2013
to
March 9, 2015
All My Children
Amanda Dillon
May 4, 2005
to
September 23, 2011
Daytime Emmys Pre-Nomination, Outstanding Supporting Actress (2010, 2011)
Daytime Emmys Pre-Nomination, Outstanding Younger Actress (2008)
soap
central
.com
Dankies Winner, Most Attractive Female Star (2009; for All My Children) PLACE OF BIRTH: Draffenville, Kentucky
DATE OF BIRTH: July 21, 1981
News Archive
: Stause planning to exit AMC this summer. [May 4, 2009]
News Archive
: Chrishell Stause extends her contract with AMC. [May 25, 2009]
News Archive
: ABC allows Stause to remain on a recurring basis. [Dec 8, 2009]
News Archive
: LISTEN NOW: Chrishell Stause discusses time on AMC, Ricky Paull Goldin on Soap Central Live [Apr 23, 2010]
News Archive
: Stause, Haley Pullos to co-host
soap
central
.com
Daytime Emmy coverage. [Jun 15, 2012]
News Archive
: VIDEO: Chrishell Stause interviews Susan Lucci at the 2012 Daytime Emmys. [Jun 23, 2012]
News Archive
: VIDEO: Chrishell Stause interviews Lisa LoCicero at the 2012 Daytime Emmys. [Jun 23, 2012]
News Archive
: VIDEO: Chrishell Stause interviews Scott Clifton and Kim Matula at the 2012 Daytime Emmys. [Jun 23, 2012]
News Archive
: VIDEO: Chrishell Stause interviews Melody Thomas Scott at the 2012 Daytime Emmys. [Jun 23, 2012]
News Archive
: VIDEO: Chrishell Stause interviews Melissa Claire Egan at the 2012 Daytime Emmys. [Jun 23, 2012]
News Archive
: Chrishell Stause co-hosts soapcentral.com's 18th anniversary bash. [Mar 22, 2013]
News Archive
: Stause hired for newly created role on DAYS. [Apr 18, 2013]
News Archive
: Gatschet, Stause, and Egan are a little 'Misguided' [Feb, 19 2015]