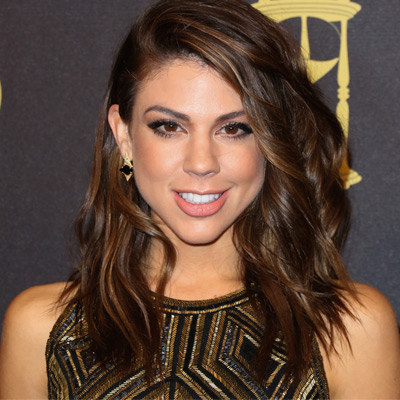 Kate Mansi
Kate Mansi grew up in Southern California as the middle child of a large Italian/Irish family. She trained as a dancer from a very young age,winning several scholarships and sponsorships over the years, both in NY and LA. She joined the Pacific Festival Ballet at just 15 years of age where she was proud to be a principal dancer in performances such as
The Nutcracker
,
Bambi
,
Peter Pan
, and the contemporary ballet
Heaven and Hell
.
While in high school, Kate developed an interest in acting which was nurtured by her drama teacher, Bill Garrett, who cast her in her first theatrical production as the lead in
The Mouse that Roared
. Kate went on to study film and public relations at Pepperdine University in Malibu. As a sophomore, she placed second in the National Womack Speech competition. In her senior year, she traveled to the Dominican Republic and Haiti to volunteer with Orphanage Outreach. After graduating with a Bachelor of Arts degree from Pepperdine, Kate focused solely on her acting career and appeared on several TV shows including
How I Met Your Mother
and could also be seen in several national commercials and print ads. In her free time she enjoys dancing, yoga, horseback riding, and being with her beloved pup Leighla May. Kate is thrilled to be joining the Days family!
Days of our Lives
Abigail Deveraux
March 2, 2011
to Present
How I Met Your Mother
Amanda
2008 Daytime Emmys Pre-Nomination, Outstanding Younger Actress (2012, 2013,
2014
; for Days of our Lives)
News Archive
: Newcomer Kate Mansi tapped as new Abigail. [Dec 2, 2011]
News Archive
: DAYS star perform in one-night only play. [May 30, 2014]
News Archive
: DAYS' Kate Mansi misses work due to emergency surgery [Mar 16, 2015]
News Archive
: Jaw-dropping DAYS news: Kate Mansi to exit the role of Abigail [Jan 4, 2016]
News Archive
: DAYS stars bid farewell to exiting cast mates [Jan 8, 2016]
News Archive
: Is DAYS planning to recast Abigail? [Jan 15, 2016]
News Archive
: DAYS reportedly having difficult time replacing Kate Mansi as Abigail [Mar 10, 2016]
News Archive
: DAYS' Kate Mansi and Billy Flynn dish on Chad and Abigail's rollercoaster wedding [Mar 11, 2016]
News Archive
: Wedding Wowzer: DAYS' Kate Mansi admits she rewrote Abigail's nuptials [Mar 15, 2016]
News Archive
: DAYS' Kate Mansi and OLTL's Ted King team up for Lifetime film [Aug 20, 2016]
News Archive
: Days of our Lives' Kate Mansi supporting mental health charity [Sep 27, 2016]
News Archive
: DAYS alum Kate Mansi opens up about her battle with depression [Nov 30, 2016]
News Archive
: DAYS' Kate Mansi and Patrick Muldoon star in thriller film Boyfriend Killer [Dec 30, 2016]