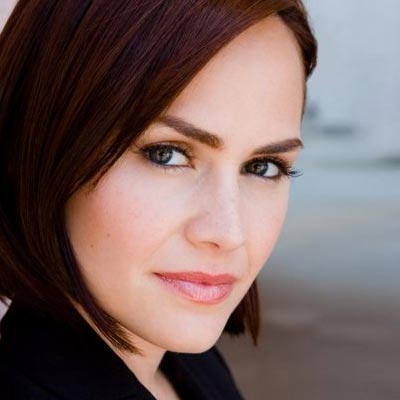 Natalia Livingston
Share this story
Natalia Livingston joined the cast of GH in the role of Emily Bowen-Quartermaine in April 2003.

Natalia's father is a physician, and her mother is an artist and a Spanish teacher. The Georgia native is unaffected by her Hollywood success. Though Livingston hails from Macon, Georgia, she was actually born in Pennsylvania.

Natalia always knew that she wanted to be an actress when she grew up and began acting in high school. Livingston attending Emory University to obtain her degree in Sociology and took every acting class that the college had to offer. She also starred in many student films. Natalia took a big step by moving to Los Angeles to pursue her dream of acting. While working at Home Depot in Hollywood, Livingston was discovered. Livingston knew how to speak Spanish, and she quickly landed five McDonalds commercials that required her to know Spanish. She also starred in four plays in Los Angeles. Natalia also studied dancing for a little over a decade.

In her free time, Natalia enjoys spending time with friends, going to plays and the movies, going to the beach, and hiking.
Days of our Lives
Taylor Walker
January 28, 2011
to
April 21, 2011
General Hospital
Rebecca Shaw
January 15, 2009
to
December 22, 2009
General Hospital
Emily Bowen Quartermaine
April 1, 2003
to
May 7, 2008
;
June 17, 2009
;
June 23, 2009
;
April 2, 2013
McDonald's
Appeared in five Spanish language television commercials Fight or Flight
Louisa
2009
Rough Hustle
Allie
2009
West of Brooklyn
Matty Jensen
2008
Popstar
Mary Brighton
2005
Hired Help
Interpreter
2004
Study Break (College Film)
Daytime Emmy Awards Winner, Outstanding Supporting Actress [2005]
Daytime Emmy Awards Nomination, Outstanding Supporting Actress [2005]
Daytime Emmy Awards Pre-Nomination, Outstanding Supporting Actress [2005, 2006] PLACE OF BIRTH: Johnstown, Pennsylvania
HOMETOWN: Macon, Georgia
DATE OF BIRTH: March 26, 1976
EDUCATION: Graduated from Emory University in 1998
EDUCATION: Graduated from the North Carolina School of the Arts. Natalia was homecoming queen in high school
News Archive
: Livingston joins ranks of first-time Emmy winners. [May 20, 2005]
News Archive
: Livingston blasts rumors, says she's staying put at GH. [Jul 2, 2007]
News Archive
: Livingston returns to GH, but not as Emily. [Dec 15, 2008]
News Archive
: ABC confirms Livingston will exit GH. [Oct 26, 2009]
News Archive
: DAYS hires Livingston for role not seen in 10 years. [Oct 26, 2009]
News Archive
: Livingston out as Taylor, Tamara Braun hired to take over role. [Feb 15, 2011]
News Archive
: Livingston hired for Tainted Dreams series. [Jul 9, 2013]
News Archive
: Natalia Livingston returning for GH appearances. [Feb 11, 2014]
News Archive
: DAYS and GH alum Natalia Livingston gets married [Sep 6, 2016]
News Archive
: Natalia Livingston opens up about difficult GH rape scene [Dec 9, 2016]
News Archive
: GH's Natalia Livingston and Rick Hearst reunite in film Full Count [Aug 28, 2017]