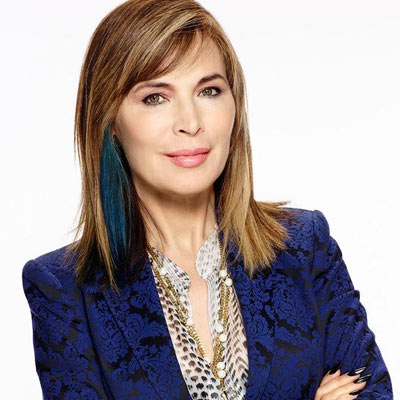 Lauren Alice Koslow
January 25, 1996 to Present
Born in Boston and raised in Newport, Rhode Island and Amherst, Massachusetts, Koslow wanted to be an actor even as a young age. After graduating with a theatre degree specializing in costume design from Virginia State University, Koslow signed on with a summer stock theater group in Virginia as a costume designer. She was also asked to audition for the role of Vera in the play
Ten Little Indians
.
Koslow soon put her costume designing talent aside to become a full-time actress, appearing in such regional productions as
Cat on a Hot Tin Roof
,
Dial M for Murder
, and
The Importance of Being Earnest
. She then moved to Los Angeles to pursue a television career and landed roles on such shows as
The New Mike Hammer
,
House Calls
,
Spies
, and
The A-Team
.
While in an acting class, Koslow met a producer from The Young and the Restless who encouraged her to audition for his series. Koslow not only won the role, but found her husband, make-up artist Nick Schillace, on the show. Koslow was then cast as fashion designer Margo Lynley on The Bold and the Beautiful. Following this role, Koslow was cast as Kate Roberts on Days of our Lives.
Koslow is the proud mother of two, Zachariah, and Milikate. When she's not working, Koslow enjoys traveling, painting and encouraging her children to take care of the mini family zoo. They have three lizards (two bearded dragons and one spotted gecko), a talking parrot named Charlie, three dogs named Peggy Sue, Buddy, and Murphy McMuffin, a cat named Frankie and a few horses in their menagerie.
In 2001, Koslow was nominated as Outstanding Supporting Actress for the Soap Opera Digest Awards.
Koslow and her family recently moved to a more rural area of Ventura County, just north of Los Angeles. Her birthday is March 9.
Days of our Lives
Kate Roberts
[#2]
January 25, 1996 to Present
The Bold & the Beautiful
Margo Lynley
1987 to 1992;
October 31 and November 1, 2002
The Young and the Restless
Lindsey Wells
1984 to 1986 Daytime Emmy Awards Pre-Nomination, Outstanding Lead Actress (2009; for
Days of our Lives
)
Daytime Emmy Awards Pre-Nomination, Outstanding Supporting Actress (2005; for
Days of our Lives
) DATE OF BIRTH: March 9, 1953
PLACE OF BIRTH: Boston, Massachusetts
MARITAL STATUS: Married, Nick Schillace [May 3, 1987]
CHILDREN: Son, Zachary; Daughter, Milli Kate
News Archive
: DAYS, B&B agree to rare "actor swap." [Oct 7, 2002]
News Archive
: DAYS rep confirms Koslow inked to new contract [Nov 1, 2004]
News Archive
: Koslow refutes 'net rumor that she's been fired. [Feb 11, 2008]
News Archive
: Koslow to take part in LA Earth Day event. [Apr 15, 2008]
News Archive
: Joseph Mascolo and Lauren Koslow discuss romance on SCL's Valentine's show [Feb 11, 2011]
News Archive
: Stars open up about their most life-changing moments [May 6, 2015]