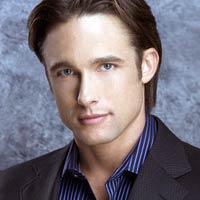 Jay Kenneth Johnson
A native of Springfield, Missouri, Johnson knew while he was growing up that he either wanted to be an actor or a professional athlete, but once he attended college at Southwest Missouri State where he majored in Business and Theatre, Johnson knew acting would be his future.

Prior to relocating to Los Angeles, Johnson appeared in a few commercials and then tried his hand at modeling before landing the role of Brendan on The Young and the Restless.

Johnson currently lives in Los Angeles but he keeps in close contact with his younger siblings Jeff and Jenna. In his spare time he enjoys reading, Rollerblading, beach-going, sports, and music. He is the lead singer for the rock group, Solid Jones.
Scrubs
Dr. Matthews
2006-2007
CSI: Miami
Jason Hollings
2006
Charmed
J.D. Williams
2005
CSI: NY
Paul Deacon
2005
North Shore
Chris Remsen
2004-2005
The O.C.
Vince
2004
Days of our Lives
Philip Kiriakis
1999 to
December 25, 2002
;
January 12, 2007
to
April 19, 2011
The Young and the Restless
Brendon #1
1999
Miami 7
1999
Daytime Emmys Pre-Nomination, Outstanding Supporting Actor (2008, 2009, 2011; for
Days of our Lives
) PLACE OF BIRTH: Springfield, Missouri
DATE OF BIRTH: February 24, 1977
HEIGHT: 6' 0" Parents are Janice Johnson and Ken Johnson
News Archive
: Johnson to exit DAYS in the fall. [Apr 22, 2002]
News Archive
: Johnson's exit part of mass firing rumors. [Nov 18, 2002]
News Archive
: Philip is returning -- but Johnson is not. [Apr 7, 2003]
News Archive
: Johnson set to rejoin DAYS cast in 2007. [Dec 11, 2006]
News Archive
: Amid pay cuts, Johnson walks away from role as Philip. [Nov 17, 2008]
News Archive
: Johnson inks a new multi-year contract with DAYS. [Mar 5, 2010]
News Archive
: Hennig, Johnson leaving DAYS by spring. [Jan 18, 2011]