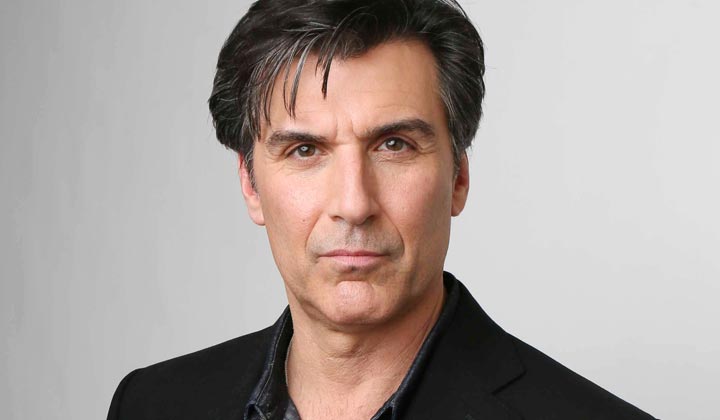 Vincent Irizarry
Share this story
Deimos Kiriakis
January 18, 2016 to Present
Mr. Irizarry has always had a passion for the arts. When he was just eleven years old, he began his creative climb, studying photography, which he has enjoyed as a form of creative expression for more than 20 years. At the same age, he began to study piano, becoming classically trained, then continued his studies at Berklee College of Music in Boston. It was there that he fell in love with acting while performing in numerous productions with a regional theater company. He decided to move back to New York to sow the seeds for a career as a professional actor, soon winning a full-time scholarship with the late Lee Strasberg at his Theater Institute.

His first professional job came on the off-Broadway stage at the New York Shakespeare Festival, where he was directed by the Tony Award-winning director Des McAnuff in The Death of Von Richthoven. Other theater credits include Lennon, in which Vincent portrayed the role of Paul McCartney, and for which he learned the bass guitar; the title role of the tortured yet gifted artist in Modigliani; The Taming of the Shrew; and Tennessee Williams' The Long Goodbye.

This talented and versatile actor has quite an impressive résumé. In television, Vincent scored as the anti-hero, Lujack, in Guiding Light, a role that earned him a Daytime Emmy nomination. Soon after, Vincent moved to Los Angeles, where he worked opposite Nancy McKeon in the television movie Firefighter; with Treat Williams and Peter Coyote in Joseph Wambaugh's Echoes in the Darkness; and had many guest-starring roles on series such as L.A. Law. Mr. Irizarry also won critical acclaim when he was offered the lead role of Gino Santangelo in Jackie Collins' NBC miniseries Lucky Chances, where he portrayed 40 years in a man's life. In features, Vincent played Sissy Spacek's abusive husband in Marie - A True Story, and starred in Clint Eastwood's Heartbreak Ridge for Warner Bros.

Mr. Irizarry moved back east once more when the producers of Guiding Light approached him to return to the show in the newly created role of Nick. In cultural New York, Vincent returned to developing his voice to the level of legit tenor. After studying with premier voice coach Tad Motyka, Vincent realized a dream by performing as a soloist with the Orchestre de Lyon, France.

Irizarry first joined the cast of All My Children in November of 1997, in the short-term contract role of the manipulative and menacing Dr. David Hayward. Due to his incredible popularity, Dr. David Hayward returned to Pine Valley in June of 1998 in this contract role, creating a web of lies, deception, and manipulation along the way. The role earned him an Emmy Nomination as Outstanding Lead Actor in 2002.

More recent credits include the starring role in the telefilm, Lying Eyes, a passionate portrayal of a man whose insatiable desires lead him to live a double life of deceit, eventually at the expense of losing everything of real value to himself; and a recurring role on Beverly Hills, 90210, as the charming but lethal pimp, Riggs.
The Young and the Restless
David Chow
January 9, 2007
, to
July 28, 2008
All My Children
David Hayward
November 27, 1997
to
March 2, 1998
;
July 8, 1998
to
November 28, 2006
;
October 23, 2008
to
September 23, 2011
;
April 29, 2013
to
September 2, 2013
Beverly Hills, 90210
Riggs
1997
Lying Eyes
Derek Bradshaw
1996
Guiding Light
Nick McHenry Spaulding
1991 to 1996
Lucky/Chances
Gino Santangelo
1990
Echoes in the Darkness
Montione
1987
Santa Barbara
Dr. Scott Clark
1987 to 1989
Firefighter
Mike
1986
Heartbreak Ridge
Fragetti
1986
Guiding Light
Brandon "Lujack" Luvanoczeck
1984 to 1986 Marie
Dave Ragghianti
1985
Daytime Emmys Winner, Outstanding Supporting Actor (
2009
; for All My Children)
Daytime Emmys Nomination, Outstanding Lead Actor (
2017
; for Days of our Lives)
Daytime Emmys Nomination, Outstanding Lead Actor (2002; for All My Children)
Daytime Emmys Nomination, Outstanding Supporting Actor (2009; for All My Children)
Daytime Emmys Nomination, Outstanding Younger Man (1985; for
Guiding Light
)
Daytime Emmys Pre-Nomination, Outstanding Lead Actor (
2017
; for Days of our Lives)
Daytime Emmys Pre-Nomination, Outstanding Lead Actor (2003, 2004, 2012; for All My Children)
Daytime Emmys Pre-Nomination, Outstanding Supporting Actor (2009; for All My Children)
Soap Opera Digest Outstanding Villain (1999) DATE OF BIRTH: November 12, 1959
HAIR: Black
EYES: Brown
MARITAL STATUS: Separated, Avalon House [1997 to Present]
MARITAL STATUS: Divorced, Signy Coleman [Jul 23, 1989, to 1992]
CHILDREN: Daughter, Siena [Mar 1990]; Daughter, Aria [1998]; Son, Elias [Nov 2001]
News Archive
: Storyline, budget prompts AMC to ditch Vincent Irizarry. [Sep 15, 2006]
News Archive
: Irizarry in talks to reprise one of his GL roles. [Oct 30, 2006]
News Archive
: A "deeply saddened" Irizarry discusses his AMC exit. [Nov 2, 2006]
News Archive
: GL head writer denies that Irizarry is returning. [Nov 2, 2006]
News Archive
: Irizarry rejoins CBS, but on Y&R. [Nov 19, 2006]
News Archive
: Irizarry's short-term role ends after 18 months. [Jun 30, 2008]
News Archive
: Irizarry to reprise role as AMC's David Hayward. [Aug 14, 2008]
News Archive
: Irizarry earns Supporting Actor Emmy nomination. [May 14, 2009]
News Archive
: Jeff Branson, Vincent Irizarry tie for Supporting Actor crown. [Aug 30, 2009]
News Archive
: Irizarry says he's not yet signed to a web-based AMC. [Jul 14, 2011]
News Archive
: Irizarry inks deal to appear on Prospect Park's planned AMC reboot. [Dec 28, 2012]
News Archive
: Podcast: Interviews with AMC and OLTL stars from series' Red Carpet premiere [Apr 26, 2013]
News Archive
: DAYS snags yet another Emmy-winning soap vet [Aug 31, 2015]
News Archive
: INTERVIEW: DAYS' Vincent Irizarry on Deimos' musical talents [May 23, 2016]
News Archive
: Vincent Irizarry out at Days of our Lives [Feb 16, 2017]
News Archive
: INTERVIEW: Vincent Irizarry on his Emmy nomination and future in daytime [Mar 23, 2017]
News Archive
: Vincent Irizarry on bringing David Hayward to GH: "It would be an easy fit" [Jul 5, 2017]
News Archive
: Vincent Irizarry back at DAYS [Oct 30, 2017]