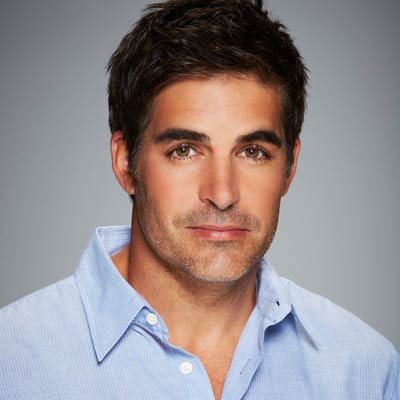 Galen Gering
Share this story
A native of Los Angeles, Gering graduated with honors from the University of Miami in 1999. While pursuing his education in film and creative writing, he began modeling and has appeared in over 50 national commercials. Gering was featured in two independent films, Road Trip and Pistol Whipped and was named one of People Magazine's "50 Most Beautiful People" in 2000. He made a guest star appearance on NBC's Miss Match in 2004.

Also in 2004, Gering co-founded ReelAccess.com, an on-line website containing an extensive database of talent demo reels and additional content.

Gering is also a writer and filmmaker and used to play Pro-Am beach volleyball. He lives with his wife, actress Jenna Gering, in Los Angeles. His birthday is February 13.
Days of our Lives
Rafael Hernandez
October 31, 2008
to Present
1 vs. 100
Himself/Mob member
2007
The Miss Teen USA Pageant
Himself/Co-Host
2005
Miss Match Adrian 2004
Passions
Luis Lopez-Fitzgerald
July 5, 1999
to
August 7, 2008
Has appeared in over 50 television commercials. Road Trip
2000
Daytime Emmys, Pre-Nomination, Outstanding Lead Actor (2003, 2004, 2005, 2006, 2007; for Passions)
People Magazine, Named one of the 50 Most Beautiful People (May 2000) PLACE OF BIRTH: Los Angeles
DATE OF BIRTH: February 13, 1971
HAIR: Black
EYES: Brown
HEIGHT: 6'2"
WEIGHT: 187 lbs
FAMILY: Alan Gering (father), Michele de Onate (mother), Charissa Gering (sister)
MARITAL STATUS: Married to Jenna Hudlett [Jan 3, 2000]
EDUCATION: Graduated in Film Making and Creative Writing, University of Miami, May 1999.
News Archives
: Rumors say disgruntled Gering to exit. [Mar 26, 2001]
News Archives
: Gering re-inks deal with Passions. [Mar 8, 2004]
News Archives
: Gering mulling a possible Passions exit. [Apr 11, 2005]
News Archives
: Gering signs new contract -- but there's a twist. [May 8, 2005]
News Archives
: Gering finally ready for Passions return. [Jan 9, 2006]
News Archives
: Gering, Martsolf get ready for new DAYS roles. [Sep 22, 2008]
News Archive
:
Dirty Soap
will not be back for a second season. [Jan 25, 2012]
News Archive
: Gering saddened by Banus' departure. [Jan 18, 2014]
News Archive
: DAYS stars "bursting" with excitement about upcoming surprise appearance [Aug 18, 2015]
News Archive
: DAYS' Galen Gering on his alter ego: "Life sucks for Rafe" [May 26, 2016]
News Archive
: DAYS' Galen Gering on his alter ego: "Life sucks for Rafe" [May 27, 2016]
News Archive
: Deidre Hall, Galen Gering to appear on ABC's revival of Battle of the Network Stars [Jun 14, 2017]