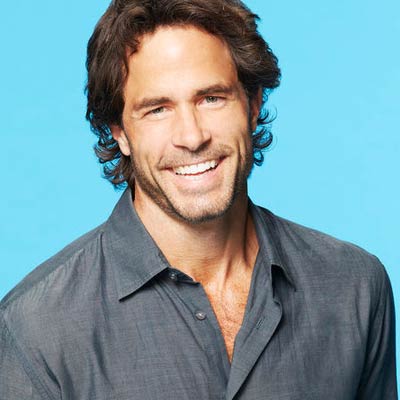 Shawn Patrick Christian
Shawn Christian, a native of Grand Rapids, Michigan, has had a highly successful acting career. After graduating from Michigan's Ferris State University with a degree in Marketing, Shawn moved to Chicago where he honed his acting skills on stage with the improvisational company "Improv Olympic."
In 1994, Shawn made his television debut as working class anti-hero Mike Kasnoff on As the World Turns. After three years on the New York based soap, Shawn moved to Los Angeles where he enjoyed a successful television career. Shawn has guest starred on almost forty television shows and had a role in the short lived series,
Summerland
. In addition, Shawn has also appeared in feature films such as
50 Ways to Leave Your Lover
,
Beautiful
, and
Tremors III
. In addition, Shawn was the lead in Lifetime's original Movie
Murder in the Hampton's
, Shawn also has a supporting role in Eddie Murphy's new film,
Meet Dave
, and is the lead in the independent film
Mating Dance
.
Days of Our Lives
Daniel Jonas
March 4, 2008
to Present
Murder in the Hamptons
Donny Pelosi
2005
Summerland
Johnny Durant
2004 to 2005
One Life to Live
Ross Rayburn
June 11, 2002
to
September 17, 2002
As the World Turns
Mike Kasnoff
1994 to March 1997 Small Town Saturday Night
Tommy
2008
Mating Dance
Ken
2008
Meet Dave
Lieutenant Left Arm
2008
For Your Consideration
Pilgrim Man
2006
50 Ways to Leave Your Lover
Rory
2004
Tremors 3: Back to Perfection
Desert Jack Sawyer
2001
Beautiful
Wink Hendricks
2000 Daytime Emmy Awards Pre-Nomination, Outstanding Lead Actor (
2014
; for Days of our Lives)
Daytime Emmys Pre-Nomination, Outstanding Supporting Actor (2011, 2013; for
Days of our Lives
) PLACE OF BIRTH: Grand Rapids, Michigan
BIRTHDATES: December 18, 1965
HEIGHT: 6'
MARITAL STATUS: Separated, Deborah Quinn [May 18, 1996 to 2013]
CHILDREN: Son, Kameron [2000]
News Archive
: Former ATWT star tapped as DAYS doctor. [Feb 25, 2008]
News Archive
: INTERVIEW: Christian discusses his curious mind, building houses, and DAYS in HD. [Oct 13, 2010]
News Archive
: DAYS co-star helps Shawn Christian find love on TV talk show. [Sep 30, 2013]
News Archive
: Injury lands Christian in hospital, requires five stitches. [Jan 6, 2014]
News Archive
: Christian starring, serving as EP in new film. [Jul 12, 2014]
News Archive
: DAYS' Arianne Zucker on the good, the bad, and the ugly of Nicole and Daniel's relationship [Apr 16, 2015]
News Archive
: Does Shawn Christian want out at DAYS? [Jun 30, 2015]
News Archive
: Shawn Christian exits DAYS, but not in the way you might think [Sep 15, 2015]
News Archive
: DAYS stars bid farewell to exiting cast mates [Jan 8, 2016]
News Archive
: WATCH: Completely transformed Shawn Christian discusses post-DAYS role [Jan 23, 2016]
News Archive
: Shawn Christian back for special DAYS episode [Feb 10, 2016]
News Archive
: FIRST LOOK: DAYS' alum Shawn Christian shares snaps from Famous In Love [Oct 21, 2016]