The chaos behind the scenes at Days of Our Lives hit a new and unforeseen level this past weekend. In what could be a first for any daytime television program, the entire Days of our Lives writing staff was fired on Friday, February 1st.
Ousted from the show are Emmy-winning head writer Hogan Sheffer and his staffers Tom Casiello, Frederick Johnson, Meg Kelly, Gordon Rayfield, Judy Tate, Judith Donato, Renee Godelia, and Richard Backus.
"Yesterday I received a phone call I've received three other times in my life -- but one that never cut so deep as this," wrote Casiello on his personal web page. "I learned I would not be returning to [Days of our Lives] when the strike ends. My time in Salem is done [and it] ended back on November 1st when I turned my last breakdown in, and I didn't know it."
Casiello blames behind-the-scenes machinations for the mass ouster.
"I could probably launch into an essay about the inner workings of a television show… the secret cabals and the back alley strike deals that were made," Casiello added. "I could potentially try to analyze the whole situation, try to find out how a writing team that started out the year doing strong [in the ratings], then ended up in LAST PLACE (due to dictates from the higher-ups) then somehow managed to come back and end the year in 4th place in Households and 1st place in the 18 - 24 demographic were all summarily kicked out at once."
Casiello expressed affection and praise for several recently-fired actors and actresses who lost their jobs as part a wave of behind-the-scenes shakeups that took place last month.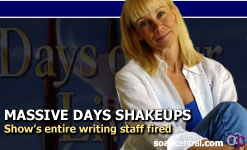 Meanwhile, Dena Higley has returned to Days of our Lives to fill in as head writer during the ongoing strike by the Writers Guild of America. Higley previously served on the DAYS writing team for 19 years. For a period of a few months ending in early 2003, Higley was elevated to head writer after having presented DAYS Executive Producer Ken Corday with a detailed, long-term story outline. In 2004, Higley was hired as head writer for ABC's One Life to Live. Though her reception by One Life to Live fans was chilly at best, before being fired last year Higley did earn a Daytime Emmy nomination for Outstanding Writing Team before being fired last year.
News of the mass firing comes at a time many believe to be the waning days of the thirteen-week-old writer's' strike. Many media outlets, including MSNBC, have reported that so much progress has been made in the negotiations that the strike could end as early as the week of February 3, 2008. This coincidence of timing suggests that Days of our Lives execs are lining things up to hit the ground running the moment the strike officially ends.
It is widely expected that Higley will be formally named the show's permanent head writer once the strike ends.
In related news, NBC has named programming executive Bruce Evans to oversee its daytime operations. Evans's official title is Senior Vice President, Current Series. The Current Series division serves as an umbrella for multiple dayparts within NBC Entertainment including, as of last year, daytime programming.
"Bruce has been an incredibly vital executive whose extensive experience on some of our most important cornerstone series make this promotion most deserving," said Erin Gough Wehrenberg, Executive Vice President, Current Series, NBC Entertainment. "As a result, his duties will be expanded to allow his contributions and impact to be maximized on a larger platform."
While statements made last year by NBC executives hinted that the network had pretty much given up on Days of our Lives, this new wrangling may hint at a renewed desire to keep the 41-year-old soap on the air.