Which of these three exiting DAYS stars will you miss the most?


Nadia Bjorlin (Chloe Lane)
49%
Eric Winter (Rex Brady)
23%
Kyle Lowder (Brady Black)
23%
I will miss all three stars equally.
4%
I won't miss any of these stars.
1%
Other
0%
Poll Posted: June 15, 2005
While rumors of his impending exit from Days of our Lives have been swirling for months, it wasn't until recently that
Eric Winter
(
Rex Brady
) made an announcement that put the whispering to rest. In a message on his official web site, Winter revealed that he has made the decision to step out of his DAYS role.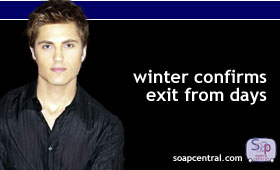 "It is a tough thing for me," Winter admitted. "I am leaving... some of my best friends behind."
Winter has previously acknowledged publicly his desire to explore projects outside of daytime television. In 2004, the actor landed the male lead in an advertising campaign for pop siren Britney Spears' new fragrance, "Curious."
Winter joined the cast of Days of our Lives in July 2002 as one of the "genetically engineered" Gemini twins. The role of Rex is not expected to be recast and Winter tapes his final scenes on June 24th. He will last air sometime on July 26th.
Of his last day at the studio, Winter has this to say, "It was a sad day. I am really going to miss playing the role I helped create. I am also really going to miss all [the fans] and my friends at DAYS. I really think [fans] are going to love my final episode. It... was some of the best-written stuff I have gotten and I couldn't have left the show happier with my performance."
A DAYS spokesperson had no comment, reminding
soap
central
.com
that it is not network policy to discuss actors' contracts.