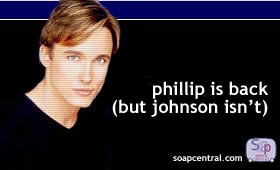 While Days of our Lives prepares for
the exit of Matt Cedeno's Brandon Walker
, the show will be ushering back in a familiar face. Though the ideal performer for the role is out of the running, DAYS will be re-introducing
Philip Kiriakis
to the canvas later this spring.
Published reports had
Jay Kenneth Johnson
returning to the role, a role he held down from 1999 through the fall of 2002. However, an outside television project forced the actor to pass on a return to daytime.
Johnson is in the running for a potential part in a primetime remake of the Aaron Spelling series
Hotel
. While the series has not yet been given the green light, Johnson has already begun production for the pilot episode.
Internet rumors had had Johnson returning to help
escort Chloe and the Wesley family out
of Salem. Now, however, with Johnson out it looks like Philip will be sticking around for more than just a handful of episodes.
Newcomer
Kyle Brandt
, seen on MTV's
Real World: Chicago
, will assume the role of Philip in May.