As of last week, Days of our Lives execs were in marathon talks with
Lisa Rinna
(ex-Billie Reed) about her possible return to the show.
As previously reported, DAYS execs had asked Rinna to reprise the role she played from 1992 to 1995. Originally, Rinna was unavailable to return due to pregnancy. Then another gig stepped in between Rinna and a possible return to Salem.
SoapNet, the Disney-owned all-soaps cable channel, has confirmed that Rinna will co-host a new talk show called Soap Talk. The show will debut in June. [For complete details on the launch of Soap Talk,
click here
.]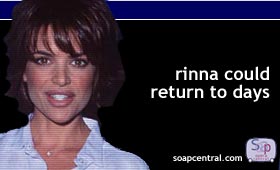 Rinna's work on the show was expected to prevent her from returning to DAYS full-time and DAYS executive producer Ken Corday had reportedly nixed any chance of having Rinna returning only a handful of times per week.
However, Soap Talk, which will be produced in California, will tape its episodes over the weekend to accommodate the work schedule of Rinna's East Coast based co-host
Ty Treadway
(
Troy MacIver
,
One Life to Live
).
The shooting schedule for Soap Talk has led to speculation that Rinna could return to DAYS on a full-time basis.
DAYS has also auditioned replacements in case Rinna opts not to return to the show. Soap Opera Central has confirmed that
Julie Pinson
(ex-
Eve Lambert
,
Port Charles
) tested for the role. Pinson was reportedly a huge hit with DAYS execs, but the actress declined to be put on "retainer." A DAYS source states that show execs offered Pinson about $25,000 to keep her on hold for the part of Billie in the event that Rinna decided not to return. Pinson is said to have declined the offer because taking it would have meant that she could not seek out other projects.
Rinna has expressed a desire to return, but she has also stated that she wouldn't be upset if the show recast the role. After all, DAYS did recast the role once before - with Krista Allen.
RELATED STORY: RINNA CONFIRMED AS TALK SHOW CO-HOST