You know, I'm just becoming
exhaustified
of the whole Alex North/Marlena can't remember anything story. While I feel some vindication because I was right about his nice, caring doctor routine as being an act, I just can't stand it anymore. Honestly, the only time I don't fast-forward through their scenes is when I have to write this column because otherwise it is just like a really long broken recording of fingernails on a chalkboard to my nerves. I miss Marlena. I know we see her nearly everyday, but that lady is not my Marlena. That obstinate, rah-rah Alex North cheerleader that we have been subjected to for the past couple of months really could have fallen off the roof for all I cared. But Marlena is in there somewhere, I just am really, really sick of the whole thing. I love Wayne Northrup in this part (he plays the villain so well!) but I think maybe I would have been a little more receptive to the whole scenario if they would have waited a couple more months after bringing her and Roman home from the DiMera castle (?, Castle, island, warehouse, mini-golf course it gets hard to keep track) and really gave us some Marlena and John no BS time to recharge our batteries, but I guess they couldn't have done the pregnant with Roman's baby story. AAAAAAHHHHHHH!!! It's a wonder that Marlena just doesn't jump off a bridge (or a roof) with all that they put her through.
Call me crazy, but I think that the Abe/Lexie/Tek situation is going to blow up sooner rather than later. Lexie is feeling rejected (what was she thinking trying to get some lovin' in the hospital. Um, eww.) and with Tek constantly (and I stress constantly) at her about how much he loves her and how Abe doesn't deserve her, she's going to do something stupid and Abe is going to catch her (notice how Tek seems to forget that Abe can see as he accosts Lexie every five seconds in the hospital where her husband is). I wonder how THAT will play out. Oh Lord, there is gonna be some fireworks.
Austin is my kind of guy. I say that because he must be the most hygienically clean man on the planet. He takes, like ninety showers a day. I bet there is no bacteria on him at all. And pardon me fellas, but would you walk around with no shirt, constantly, while you're living with your ex-fiancée (of like 3 times) who you suspect may still have a thing for you, unless you were trying to torture her. He has coffee shirtless, he does business shirtless. I mean, he is a very attractive man, but isn't it February? Isn't it cold? But that crack that Carrie made when Austin offered to put on a shirt the other week was priceless. Speaking of Carrie, I keep waiting for the day that Lucas hauls off and punches Kate for all her meddling. She just can't help herself from interfering with EVERYTHING. I hope Victor follows through on his threat and ices her or whatever it is that he does.
Oh, and speaking of Victor, I thought that it was great that he was comforting Caroline through Zack's burial (those scenes just broke my heart), but where in the H-E double hockey sticks was Grandpa Shawn at the burial??? He just disappeared!! I hate when that happens. Bo standing on the one side of the casket while Hope and Shawn comforted each other on the other was just so sad. Peter Reckell is really just giving his all this week. From ever so nonchalantly smashing a beer bottle over that guy's head (I rewound that like four times, it was so funny) to trying to smash a brick wall with himself, I was glued to every single scene he was in. Hope throwing him out of the house just killed me. I wonder if she's ever going to be able to forgive him. So now, he is locked, loaded and ready to go, and on a motorcycle trying to add a DUI to his list of problems. All I could think all week was "Poor guy." Its bad enough when something terrible happens, but to know that essentially you are responsible for the whole thing must be enough to make anyone crazy. I hope Billie catches up with him (I'm sure she will).
Poor Mimi. You know what, I've said it before, I hate lies and really do believe in being honest because the truth always comes out. Okay, with that said, after Mimi hearing Belle's declaration of love for Shawn and what Shawn had to say about breaking up Belle's family and Claire, I really won't blame her if she keeps Claire being Shawn's daughter to herself. If I were Mimi, I would just disavow all knowledge when the truth did come out. Hey the information just came to her and she can just let it come to Shawn and Belle. Sorry. I know that is terrible, but it is an impossible situation. And plus it's not like Shawn and Belle were together and thought that there was a possibility that Claire was his. No, they had "dream sex." Mimi's confession dream had me going until they showed Belle and Shawn's reaction. There is no way they would be that crass about breaking up with Mimi and Philip and even if they were that happy they wouldn't have shown it. But I loved Philip yelling at Mimi and looking that he wanted to choke her. I don't know why but it kind of made me laugh. Shawn's answer to Belle made me want to cheer (sorry Shelle fans), not so much because he rejected her but because it was very honorable. He could have been scummy and been like "Sure, leave Philip and I'll leave Mimi and we can be together. You and Philip can work something out with the custody." I love that he did the right thing (for now). I just wonder how it will all be blown to bits when he figures out the truth about Claire.
So, wonderful readers out there, how far do you think they are going to take this Alex is gonna kill Marlena story? Will she get kidnapped again this year? Will Austin buy a shirt? Who is going to spill the beans to Shawn? Will Belle ever figure out that she and Shawn really did do the do and she made herself believe it was a dream? Will Sami and Lucas get over themselves and get back together? Will Abe toss Lexie off the hospital roof when he catches her getting freaky in the linen closet with Tek? Will Kate finally unfurl her wings and reveal that yes, she is in fact a bat person? Only time will tell!
Melissa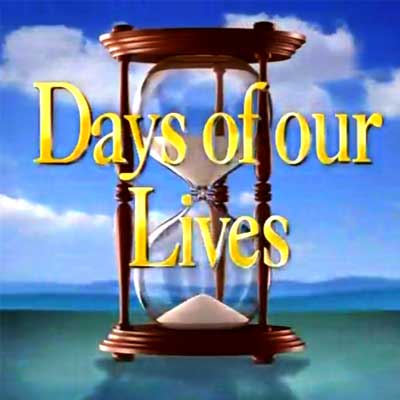 More scoops, spoilers, and commentary
>
2018 DAYTIME EMMYS: OUR EXCLUSIVE INTERVIEWS WITH THE STARS OF DAYS