When I started writing this column, some time back, I was amongst the first wave of DAYS viewers to vocally rebel against James Reilly's writing, especially the endless "Salem Serial Killer/Ridiculous Island" plotline. There were a lot of people who agreed with my opinions; there were just as many who disagreed. You get tons of email when you write a column, and I read a lot of both kind and cruel missives. Still, although I desperately searched for something positive to write about, I really had no luck finding much good in the DAYS we've been watching for the last two years.
My job sharing partner, Sari, has been pretty good at finding something nice to say when she wrote her column. But Sari's temporary replacement seems to be more on my wavelength - she may even be angrier than I at the depths Reilly's taken our beloved soap.
Whenever I'd break down and buy one of the soap magazines, I'd find myself growling at the sycophantic writing. The soap magazines' know which side their bread is buttered on, and they make a point of keeping good relationships with all the soaps. That's how they manage to get the news, spoilers, and interviews that keep the mags going. I'd understand that approach, but it was still galling to read a suck up interview that insisted on calling Reilly a 'genius'. Generally I'd have to count to 10 (Hi, Hope!), and then turn to another article, vowing to never waste my money on another soap magazine. Until the next time I'd buy one!
That's why I just about swallowed my own tongue this week when I read the February 05 editions of the Soap Opera magazines. On one, DAYS had the cover, with two full inside front pages devoted to the current storylines and Emmy battles. Did I sense a shifting in the tone of the articles this week? Why, I believe I did! Despite Deirdre Hall's (Marlena) quote on why she allowed her character to be nominated (body of work, writing and production of the stalker storyline, which she believes has been wonderful) I felt like the editorial staff were holding back on agreeing with her stance. And Drake Hogestyn's (John) interview admitted that he was aware the fans are frustrated with the long separation of John and Marlena, adding that he shared that frustration.
Another article had Digest Feature writer, Elaine G. Flores mentioning that she had switched to the Y&R and the B&B from her previous favorites, AMC, GH, and OLTL because she found her shows just didn't measure up to what she required in a soap. Her list of qualities for a good soap to watch explained:
" I first noticed the look of the show. The attention to detail. Then I noticed the character driven plots steeped in history, and the consistency. Y&R pays as much attention to its script as it does to its sets. They put more thought into the writing. New characters don't pop up and dominate the show without reason."
Sound familiar? Yep, seems like all the qualities that we viewers are begging to return to Days of our Lives! Great minds think alike, right?
'Breaking News' in another magazine had some interesting material as well. Focusing on 'Who Will Take The Emmys Home?" had next to nothing to say for any of the DAYS nominees. In fact, in the four pages cataloguing the nominees, there was only one little line about anything to do with DAYS at all. Under "Best Show", they wrote:
"Had DAYS not dropped the ball with it's Captive Island saga, the serial killer storyline might have slashed the competition. Instead, look for back to basics story telling to be rewarded. "
(The nominees are AMC, B&B, GH, GL, and Y&R).
Reilly's other soap, PASSIONS, hasn't a single nomination in any category - zip, zero, nada. Can someone buy this man (and his bosses) a clue? Days of our Lives is due for a major overhaul, pronto! Before it sinks slowly into the west and disappears forever.
**********
Here's a summary of email I have recently received:
"I can't believe it, I just wrote a letter to Days last week telling them what I thought about the show and was shocked to see when I read some of the feedback that they said almost exactly the same thing! Seems we all feel the same way, so why can't they listen to the fans and just make the changes. Kate needs dealt with and Lucas and Sami need to be together. Enough of her scheming and getting away with it.. let her kids find out what she's really like! Hopefully the writers will listen to us, or I will just stop watching... you are right, we need the reality back in these shows... some HAPPY storylines wouldn't be too remiss either.... " - from Tammy Bozenski.
" I am a life long Days fan. I am sick of Kate's role in the show. It seems so stupid, as well as Lexie's mom and Jan. It is time to move on and get things hot again. I find myself flicking the channels now because it is boring. " - from Bobby McCline
"I am with you 1000 percent! I used to LOVE Days and wouldn't miss it until the "possessed Marlena" story. That was the beginning of an agonizing, slow slide into what is now a terrible show. I finally quit watching once and for all with the "serial killer Marlena" story and haven't watched since. This soap needs to sit back, take a deep breath, and take some cues from Y&R. Killers/crazies/possessed people don't just wander the streets of small town America. " - from Carol Taylor

*******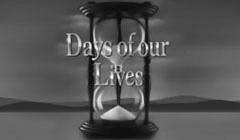 Roxanne
Two Scoops is an opinion column. The views expressed are not designed to be indicative of the opinions of soapcentral.com or its advertisers. The Two Scoops section allows our Scoop staff to discuss what might happen, what has happened, and to take a look at the logistics of it all. They stand by their opinions and do not expect others to share the same view point.