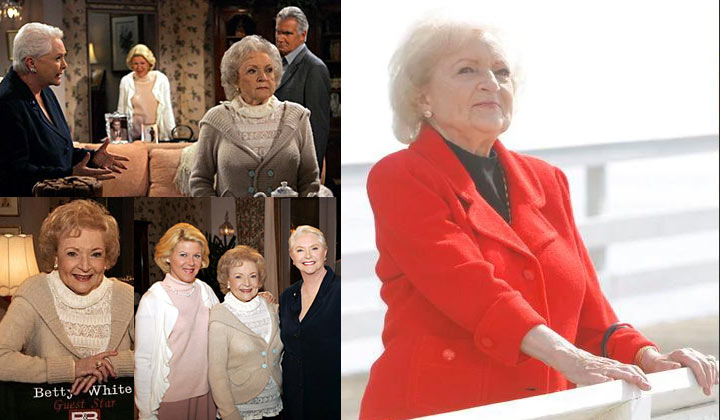 Ann Douglas
Deceased
Betty White
Housewife Lake Forest, Illinois at the time of her death Single/Widowed John Douglas (deceased)
Ridge Forrester
(grandson)
Thorne Forrester
(grandson)
Kristen Forrester
(granddaughter)
Felicia Forrester
(granddaughter)
Angela Forrester
(granddaughter; deceased)
Thomas Forrester
(great-grandson)
Steffy Forrester
(great-granddaughter)
Phoebe Forrester
(great-granddaughter; deceased)
Ridge "R.J." Forrester Jr.
(great-grandson)
Alexandria Forrester
(great-granddaughter; deceased)
Zende Forrester Dominiguez
(great-grandson; via adoption)
Dominick Damiano (great-grandson)
Stephanie Douglas Forrester
(daughter; deceased)
Pamela Douglas
(daughter) None (assumed)
Ignored Stephanie and Pam's abuse at the hands of her husband, John
Hospitalized for pancreatic cancer and a possible pulmonary embolism [2009]
Ann Douglas shared a home with her husband, John Douglas, and their two daughters, Stephanie and Pamela, in Lake Forest, Illinois. After Stephanie grew up, she married Eric Forrester and moved to Los Angeles, rarely mentioning Pam and telling her family that Ann was dead. When Stephanie's anger and controlling behavior came to a head, she sought therapy with Taylor Hayes, and together they uncovered memories of Stephanie's abuse at the hands of her father. Taylor encouraged Stephanie to go home to Chicago and face Ann. When Stephanie called, Ann thought it meant Stephanie wanted to make amends for walking out. But when Stephanie showed up with Eric and addressed the abuse, Ann denied it and said Stephanie exaggerated John's discipline. Pam, who had taken care of Ann for years, confirmed the abuse while Ann continued to say Stephanie was in the wrong, so Stephanie walked out on Ann a second time.
Eric had Ann and Pam visit Los Angeles for Christmas. Ann finally admitted that she knew of the abuse and hoped it would stop on its own because she was too afraid to confront John. Stephanie appreciated Ann's honesty, but couldn't forgive her until Stephanie's granddaughter, Alexandria Forrester, included Ann in the family caroling. Ann decided to stay on in Los Angeles after Eric offered to put her up in a luxury condo, even wangling a driver and a new wardrobe out of Eric. Ann came to appreciate Eric and thought Pam would be a better match for him, calling Stephanie "damaged goods." But eventually Ann gave up her new lifestyle to return to the comforts of home in Chicago.
Later, when Stephanie was shot, Ann warned Stephanie that Pam may have been the shooter, deeming Pam dangerous since Pam had been off her medication for bipolar disorder. Ann wasn't wrong: although Pam was cleared of the shooting (Storm Logan pulled the trigger), Pam's behavior got increasingly dark as she targeted Donna Logan, who had become involved with Eric. Pam's childish pranks on Donna escalated to nearly killing Donna by dousing her with honey and siccing a bear on her. It turned out that when Pam was a girl, she fell down the stairs running from John, resulting in a mass of scar tissue on her brain that made her do violent things. After Pam had an operation to remove the mass, she went home to Chicago for treatment and to be cared for by Ann.
Ann stayed in Chicago once Pam returned to Los Angeles. But eventually, Ann made a mysterious trip to Los Angeles herself, taking a taxi from the airport to Paradise Cove, a spot Ann had discovered with her daughters during a previous visit. Ann dumped a bottle of pills into the ocean and called Stephanie and Pam to the cove, stunning them with the news that she was dying from pancreatic cancer. Ann refused to go to the hospital, but agreed to stay with Taylor. While Taylor and Stephanie were out getting Ann a new prescription, Ann had a painful episode and Pam called an ambulance against Ann's wishes.
Stephanie and Pam argued over the decision, while Ann begged them not to let her die in a hospital. So Stephanie and Pam broke Ann out of her room and took Ann back to Paradise Cove, where Ann had a chance to make peace with both her daughters before quietly passing away in what she deemed "the most beautiful place I've ever seen."