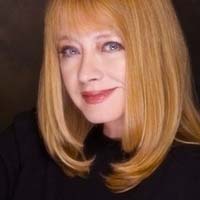 Andrea Lynn Evans
Tawny Moore
Born and raised in the Midwest, Emmy-nominated Andrea began acting with a job as an extra in Brian De Palma's
The Fury
, which ultimately became a featured role. She was soon cast in the television mini-series
The Awakening Land
and her performance garnered the attention of ABC casting executives, which lead to her long-term contract role as Tina Clayton on
One Life to Live
. Evans' other notable daytime roles include Tawny Moore on
The Bold and the Beautiful
, and Patty Williams Abbott on
The Young and the Restless
.
Additionally, Evans' credits include a recurring role on
Capitol News
and the films
Opposite Sex
,
Low Down Dirty Shame
,
Ice Cream Man
, and
Ghostwriter
.
Andrea's charitable interests include Amnesty International, Global Relief, the Special Olympics, and a variety of AIDS fundraising and research organizations. In her free time, Andrea enjoys spending time with her husband, Steve; their dog, Motown; and their cat, Ernie. Her hobbies include cooking, gardening, and working out, and she is an ardent baseball fan.
The Young and the Restless
Tawny Moore
May 12, 2010
Passions
Rebecca Hotchkiss
September 1, 2000
to
August 7, 2008
The Bold and the Beautiful
Tawny Moore
March 31, 1999
to
June 9, 2000
;
December 29, 2010
to
June 23, 2011
Capital News
1990
Jenny's War
Receptionist
1985
Arch of Triumph
1985
Florence Nightingale
1985
The Young and the Restless
Patty Williams Abbott
1983 to 1984
The Awakening Land
1978
One Life to Live
Tina Clayton Lord Roberts
July 1978 to December 1981; February 1985 to January 1990;
June 11, 2008
to
November 25, 2008
;
September 27, 2011
to
November 15, 2011
Ice Cream Man
Wanda
1995
A Low Down Dirty Shame
Denise
1994
The Opposite Sex and How to Live with Them
Uncredited
1992
The Fury
1978
The Vagina Monologues
April 16 to 28, 2002
Apollo Theatre; Chicago, Illinois
A.R. Gurney's Love Letters
1986
Daytime Emmys Nomination, Outstanding Ingénue in a Drama Series (1988; for
One Life to Live
)
Young Artist Award Nomination, Best Young Actress in a Daytime TV Series (1981; for
One Life to Live
) DATE OF BIRTH: June 18, 1957
PLACE OF BIRTH: Aurora, Illinois
Full name: Andrea Lynn Evans
Formerly known as: Andrea Evans Massey
HEIGHT: 5'5"
MARITAL STATUS: Married to Steve (January 10, 1998 - present), formerly wed to Wayne Massey (divorced)
EDUCATION: Attended the University of Illinois Champagne/Urbana.
News Archives
: Brady Bunch star out, soap vet Andrea Evans in as recast. [Jul 24, 2000]
News Archives
: OLTL fans abuzz over possible return of Tina Lord. [Mar 21, 2007]
News Archives
: Evans to guest star on TV reality series. [Mar 14, 2008]
News Archives
: ABC confirms Andrea Evans will return to OLTL. [Apr 4, 2008]
News Archives
: Evans continues efforts to raise funds for cancer research. [Jun 25, 2008]
News Archives
: OLTL exec sets the record straight on Evans' exit from the show. [Oct 6, 2008]
News Archives
: Evans lands role in independent film. [Mar 30, 2009]
News Archives
: Evans returning to The Young and the Restless. [Apr 6, 2010]
News Archives
: Evans to reprise role as B&B's Tawny. [Nov 8, 2010]