Ronn Moss (Ridge Forrester) has popped the question to his long-time girlfriend, Devin DeVasquez.
"I wanted to share my good news with you all," Moss announced on his MySpace page. "Devin and I are now engaged. This is an amazing time for us both!"
To put herself through college, DeVasquez worked a series of jobs before deciding to pose for the men's magazine, Playboy. In 1985, DeVasquez earned the honor of being named Miss June. A year later, she competed in the spokesmodel category on the television talent competition, Star Search. DeVasquez emerged from the competition as the grand prize winner and pocketed the $100,000 grand prize.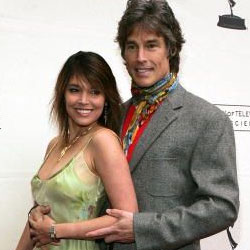 From there, DeVasquez turned her attention to modeling and acting. She appeared in a series of national commercials before landing roles on television and in feature films. She appeared as Iris in Can't Buy Me Love and performed the track "Hey Goldmember" for the soundtrack to Austin Powers: Goldmember.
Moss, 55, was previously married to Shari Shattuck (ex-Ashley Abbott, The Young and the Restless). During the pair's 12 year marriage, which ended in July 2002, Moss and Shattuck had two daughter. Creason, 14, and Calee, 9.
The pair plans to wed in 2009.