It is with a heavy heart that
soap
central
.com
reports the passing of The Bold and the Beautiful's
Darlene Conley
. Conley, who played the larger than life
Sally Spectra
on the CBS soap, has lost her battle with stomach cancer.
In November 2006,
soap
central
.com
first reported that during a routine examination Conley was diagnosed with cancer. The actress underwent immediate surgery and began chemotherapy and radiation treatments to combat the disease. At the time, a spokesperson stated that the actress was "doing quite well [with] a good prognosis for a full recovery."
Sadly, the actress lost her valiant battle on January 14, 2007. She was 72.
"Darlene understood better than anyone that each moment of airtime was precious," said Bradley P. Bell, Executive Producer and Head Writer of The Bold and the Beautiful. "She constantly entertained us with every move, every breath, every inflection of her voice. Whether she was the villain, the damsel, the sexpot, or the comedienne, Darlene was brilliant. An extraordinary actress of film, radio, stage and television, my family had the privilege and honor of Darlene gracing our shows for three decades. She was truly one-of-a-kind. We will miss her beyond measure."
"Darlene was a beloved member of the CBS family for many years," said Barbara Bloom, Senior Vice President of Daytime, CBS. "Her talent, wit, and energy made her a force to be reckoned with and her loss is immeasurable. She'll be greatly missed but also greatly remembered."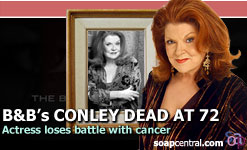 Conley was born July 18th, 1934 in Chicago. At the age of 15, she was discovered by legendary Broadway impresario Jed Harris who cast her as the Irish maid in a touring production of the 19th century melodrama
The Heiress
, which starred Basil Rathbone. After graduating high school, she toured the country with classical theater companies before appearing in Shakespearean roles on Broadway with the Helen Hayes Repertory Theater. She later appeared in a Broadway revival of the
Night of the Iguana
, with Richard Chamberlain, and in David Merrick's musical
The Baker's Wife
. Her Los Angeles theater credits included Cyrano de Bergerac and Night of the Iguana (both with Chamberlain), The Time of the Cuckoo with Jean Stapleton and Ring Around the Moon with Michael York.
Conley's first feature film was the Alfred Hitchcock suspense thriller,
The Birds
. It was Hitchcock himself that cast Conley in the movie. From there, Conley's portfolio of feature films blossomed. Over the next two decades, Conley appeared in such works as
Faces
,
Minnie & Moscowitz
,
Valley of the Dolls
,
Play it as it Lays
,
Lady Sings the Blues
, as well as
Tough Guys
, with Burt Lancaster and Kirk Douglas.
On television, Conley appeared in numerous made-for-television movies and guest starred in countless primetime series. The list of Conley's appearances include
Robert Kennedy & His Times
,
The Fighter
,
The Choice
,
Return Engagement
, and
The President's Plane is Missing
as well as
The Cosby Show
,
Murder, She Wrote
,
Cagney & Lacey
,
Little House on the Prairie
,
The Mary Tyler Moore Show
and
Highway to Heaven
.
In 1979, Conley landed her first daytime role as Rose Deville on
The Young and the Restless
. Conley appeared on the CBS soap from 1979 to 1980 and then again from 1986 to 1987. Her Y&R role led to minor roles on NBC's
Days of our Lives
and ABC's
General Hospital
. In December 1988, Conley returned to the world of William Bell's soaps with the role of Sally Spectra on The Bold and the Beautiful.
For her work on The Bold and the Beautiful, Conley was honored with two Daytime Emmy nominations. The nominations, both for Outstanding Supporting Actress, came in 1991 and 1992.
Conley is survived by her son, Raymond Woodson, ex-husband Bill Woodson, sisters Carol Fontana and Sharon Wilson, a host of nieces and nephews, her long time friend and caretaker, Eva Hansen, and her manager of 24 years, Sandra Siegal. Service arrangements are pending.
A Mass of Resurrection will be held for Darlene Conley on Saturday, January 20, 2007 at Our Mother of Good Counsel Catholic Church, located at 2060 N. Vermont Avenue in Los Angeles. Arrivals start at 10:30 am with an 11:00 am start time. As Darlene loved her fans, and always reached out to them, the funeral will be open to the public.
Wife of GL star Michael Zaslow loses fight with cancer. [Nov 28, 2006]