Almost a year-and-a-half ago, The Bold and the Beautiful made waves by announcing that it had signed former General Hospital star Antonio Sabáto Jr. (Dante Damiano) to a contract. Now the CBS soap is again making waves -- but this time it is for announcing that Sabáto will be exiting the show.
Sabáto's addition to the cast was shrouded in mystery. The actor began taping scenes of the soap in May 2005. He made his first on-screen appearance on June 16th. During this time, Sabáto's character underwent several (off-screen) name changes -- from Dante DiAmore to Dante di Napoli to the name that eventually stuck, Dante Damiano.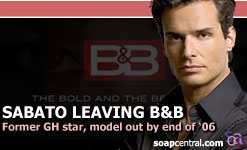 Even without know the character's name, B&B fans were excited by the news that the former daytime heart throb was returning to television. In a poll conducted by Soap Central, a full two-thirds of those responding to the poll felt that Sabáto would make a great addition to the cast.
For daytime fans, Sabáto may forever be best known as General Hospital's Jagger Cates. Sabáto appeared on the ABC soap from 1992 through 1995.
In addition to his work in daytime television, Sabáto is known to many as a former model for Calvin Klein and as one of the male leads in Janet Jackson's video for the song "Love Will Never Do (Without You)." The actor's acting portfolio also includes starring roles in nearly a dozen made-for -television movies and numerous primetime guest spots on programs such as "Melrose Place," "Ally McBeal" and "Becker." Sabáto's work, however, is not limited to the small screen - he has appeared in many feature films. Sabáto's most recent work on the silver screen was 2005's Crash Landing.
The decision to write out Dante is said to be a "mutual decision," according to a show spokesperson.
Sabáto will last air on November 20. While the role of Damian is not expected to be recast, it has not yet been determined if the character will make occasional appearances as storyline warrants or if Damian will be written out entirely.