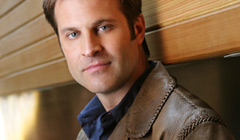 Jon Hensley
Jon, the son of restaurateurs, studied journalism at New York University before venturing into acting full time. Shortly before landing the role of volatile farmboy Holden Snyder, Jon made his television debut as Brody Price on One Life to Live. He has appeared onstage in Buck's Theater production of As You Like It and studied Shakespeare ate the London Academy of Music, Drama, and Art.
Jon's hobbies include all sports, especially golf. Jon married to castmate
Kelly Menighan Hensley
in May 1996.
The Bold and the Beautiful
Dr. Meade
May 1 and 2, 2012
;
July 19, 2012
to
July 24, 2012
Almost Perfect
Greg
1997
As The World Turns
Holden Snyder
1985 to 1988; 1990 to 1995; 1997 to
September 17, 2010
One Life to Live
Brody Price
1985
Wounded Heart
Sean Donnegal
1995
Beverly Hills, 90210
Richard Balen
1996 Daytime Emmys Nomination, Outstanding Lead Actor (2001)
Daytime Emmys Nomination, Outstanding Young Man in a Daytime Drama Series (1986)
Daytime Emmys Pre-Nomination, Outstanding Lead Actor (2006, 2008)
Soap Opera Digest Awards Winner, Best Couple (1998, 2000) PLACE OF BIRTH: Doylestown, Pennsylvania
DATE OF BIRTH: August 26, 1965
HAIR: Brown
EYES: Blue
MARITAL STATUS: Married,
Kelly Menighan Hensley
[May 25, 1996]
CHILDREN: Daughter, Sophie May [Dec 23, 1998]; Son, Spencer James [Jan 31, 2002; weighed 7lbs 2oz.]; Daughter, Georgia Grace [Jun 28, 2007 at 8:05 am; 7lbs 4oz; 19 inches long.]
News Archive
: Rumors have Jon Hensley leaving ATWT. [Jan 6, 2003]
News Archive
: B&B hires Jon Hensley for short-term role. [Mar 8, 2012]
News Archive
: Hensley again headed back to B&B. [Aug 14, 2012]