Soap Central has learned that Jaime Dudney (Georgia Tucker) and Nathaniel Marston (Eddie Silva) will be leaving As The World Turns. The official word is that the departures are "storyline dictated."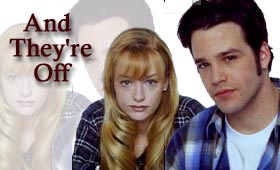 Some insiders have said that there are too many young characters on the show, and it was time to let someone go. There is no news on their last airdates.
How is the couple going to exit? Maybe a death, but probably not, since there has been quite a lot of that around here with Alec and Vicky. Eddie might get a job offer, and take Georgia with him. Who knows? However it works out, Soap Central gives a warm farewell to Jamie and Nathaniel, and congratulations on a job well done.
Photo: Cady McClain