Iconic pop star Cyndi Lauper puts in a special appearance next month on As the World Turns. Lauper's guest-starring role meshes reality with fiction, as the actress stops by to promote her new album and also to try her hand at a little matchmaking.
Under a banner proclaiming "Oakdale U. Pride loves Cyndi Lauper," the formerly fire-engine-red-headed Lauper will take to the stage at Yo's to perform two songs. The first song, "Into the Nightlife," is the latest single off of her new studio album, Bring Ya to the Brink. Lauper describes the album as a "dance album, one that you can move to and enjoy on a surface level. But if you want more than that, there's a lot to discover inside the lyrics. There are times when these songs get pretty deep."
Bring Ya to the Brink is Lauper's 12th album.
In her second number, Lauper turns the clock back to 1986 for a rendition of her chart topper "True Colors." The song, which has become an anthem for diversity, also lends its name to a national tour headlined by Lauper, The B-52s, Rosie O'Donnell, Joan Jett and the Blackhearts, Indigo Girls, Margaret Cho, Deborah Cox and more. The True Colors tour was established to raise awareness about the discrimination faced by the Gay, Lesbian, Bisexual and Transgender community.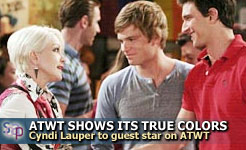 The Grammy-winning Lauper has long been active in supporting Gay Rights, a cause that hits close to home for her. Lauper's older sister, Ellen, is lesbian.
"It's an honor to always have the genuine affection of the gay community," Cyndi says. "They have never turned their back on me. I will never turn my back on them. We've had a long and enduring love affair."
In her Oakdale cameo, Lauper won't just be singing. She will also share scenes with Jake Silbermann (Noah Mayer) and Van Hansis (Luke Snyder). Lauper muses that she will do whatever it takes to make sure that "Nuke" is reunited.
Look for Lauper's special appearance on July 3rd.