Bonnie McKechnie returns to Oakdale
By
Dan J Kroll

Posted Friday, October 12, 2007 10:30:47 PM
Chaunteé Schuler joins the cast as Bonnie McKechnie. The role of Bonnie was previously held by Napiera Danielle, who played Bonnie from 2001 to 2003 when Bonnie was sent off to jail. She reprised the role briefly in 2004 when her character was released from prison. Bonnie then headed south for Miami where she presumably has been ever since.
What do you think of ATWT's decision to bring back Bonnie McKechnie?


I didn't really care for Bonnie, so I'm not thrilled that she is returning.
27%
I like the fact that ATWT is bringing in (or back) a Black character.
24%
I'm not a Bonnie fan, but maybe a new actress can win me over.
14%
It's a good move. Bonnie is a character with history and story potential.
13%
I don't really have an opinion about the return of Bonnie at this time.
11%
I am disappointed that ATWT isn't bringing Napiera Danielle to the show.
10%
Other
1%
Poll Posted: October 11, 2007
Schuler is a newcomer to daytime television, but not to acting. Schuler appeared as Nala in the national touring company of Disney's The Lion King. Her work as Deena Jones in the Prince Music Theatre's production of Dreamgirls earned Schuler a Barrymore Award nomination in 2006 for Outstanding Leading Actress in a Musical. The Barrymores celebrate achievement in Philadelphia-area theatre. Schuler and fiancé Joshua Walker appeared as one of seven couples that made cut as finalists on NBC's "Today Throws a Wedding."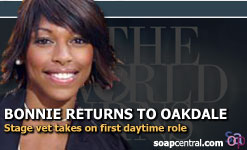 Schuler first appears on Monday, November 5th when, according to a show spokesperson, Bonnie "helps Holden through a difficult time."
2018 DAYTIME EMMYS: SOAP CENTRAL'S COMPREHENSIVE COVERAGE