Should ATWT recast the role of Jessica Griffin?


No. I don't want to see another actress playing Jessica.
35%
No. I don't see a need for Jessica, so write out the character.
28%
Yes. Jessica is still needed so the show will have to recast the role.
18%
I don't believe that Tunie is gone forever. She will be back.
12%
It doesn't matter to me what the show does with Jessica.
7%
Other
0%
Poll Posted: March 26, 2007
Tamara Tunie
(
Jessica Griffin
) has exited As the World Turns after a 20-year run with the CBS soap. The decision appears to be that of the actress - but don't feel too badly for Tunie. The actress already has several other gigs lined up.
Throughout much of her recent stay with As the World Turns, Tunie has been pulling double-duty. In fact, she has often had more than just one other outside job. Tunie has been a member of the cast of "Law & Order: Special Victims Unit" since 2000, playing the role of Dr. Melinda Warner. Some of her other primetime roles include a "six-hour" run on FOX's "24," the ABC cop series "NYPD Blue" and a guest spot on "Sex and the City."
As if her primetime resume wasn't impressive enough, Tunie has also made numerous appearances in feature films and on Broadway. The actress had a featured role in "The Caveman's Valentine," director Kasi Lemmons' follow-up to the critically acclaimed film "Eve's Bayou," in which Tunie served as narrator. In October 2006, Tunie joined the producing team of Broadway musical, Spring Awakening. Tunie's previously appeared on the Great White Way in the musical Lena Horne: The Lady and Her Music.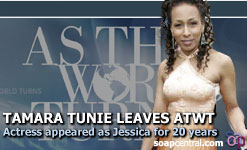 Tunie joined the cast of As the World Turns in 1986. She exited the show in 1995, but returned in 2000. She has been a member of the cast since that time. Tunie has twice been pre-nominated by As the World Turns for Daytime Emmys.
An As the World Turns spokesperson notes that it is not show policy to comment on actor contracts.
Tunie's last airdate was February 8, 2007.