Kin Shriner out due to lack of story
By
Dan J Kroll

Posted Monday, December 05, 2005 8:44:46 PM
Kin Shriner (Keith Morrissey) will wrap up his short-term stay on As the World Turns in early 2006. The actor's exit is dictated by storyline.

Shriner joined the cast of As the World Turns in February 2005 in a role that was designed to last just five months. As luck would have it, the writers found a way to extend the role a little while longer than they initially anticipated.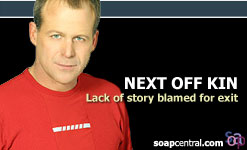 Daytime viewers know that Shriner's role on As the World Turns is certainly not his first. Shriner is best known for his work as Scott Baldwin on ABC's General Hospital and its spin-off, Port Charles. Shriner debuted as Scott on General Hospital in 1977 and, for the next 20-some years, remained a front-burner character with the show. In 1997, Shriner took the character to Port Charles and remained with the show through 2000. He has also appeared on CBS's The Bold and the Beautiful and The Young and the Restless.

"Look for Keith to leave Oakdale after the first of the year," an ATWT spokesperson tells Soap Central.

The door has been left open for Shriner to return at a later date. For now, however, the character's storyline has come to an end. And as expected, Shriner's exit from As the World Turns already has fans of General Hospital rooting for his return.

Shriner made his final As the World Turns appearance -- at least for now -- on January 9th.
2018 DAYTIME EMMYS: SOAP CENTRAL'S COMPREHENSIVE COVERAGE