In a surprise casting move sure to please As the World Turns fans, a show spokesperson confirms that Emmy winner Benjamin Hendrickson (ex-Hal Munson) will be returning to the show in May.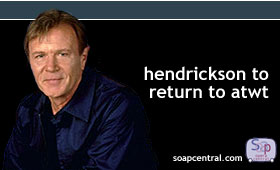 After 19 years with As the World Turns, Hendrickson, a Daytime Emmy winner in the Outstanding Supporting Actor category in 2003, left the show due a contract dispute. Stuck with already-penned storylines, As the World Turns execs brought back Randolph Mantooth, who had previously subbed for Hendrickson during one of the actor's personal leaves.

Beginning September 30, 2004, Mantooth returned to the show to play Hal in recurring capacity.

"All of us at As the World turns would like to thank Randy for his consummate professionalism and tremendous talent," said ATWT's executive producer Christopher Goutman in a statement. "It's the hardest thing in the world to step in and take over a role that's been played by its originator for 20 years. Randy has done this twice, each time with grace and humor, and has put his own unique mark on the role of Hal. We are incredibly grateful."

During his hiatus from As the World Turns, Hendrickson's name was batted around as a possible candidate for a role on rival ABC soap, One Life to Live.

Hendrickson taped his first scenes on May 16, 2005 and will return to the airwaves on June 21st.