Newcomer Beetem to exit in January
By
Dan J Kroll

Posted Sunday, December 05, 2004 12:46:30 PM
An As the World Turns spokesperson has confirmed that newcomer Chris Beetem (Jordan Sinclair) will be exiting the show early next year.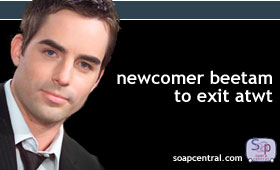 Beetem, who had appeared in the motion picture Black Hawk Down before appearing on As the World Turns, joined the ATWT cast in March 2004. Initially, Beetem's character was featured heavily in the show's storyline. However, following the reveal that Jordan Sinclair was the son of the show's favorite villain, James Stenbeck, the character's romantic prospects fizzled and so soon did his on-screen time.
Beetem is scheduled to make his final on-air appearance on January 27, 2005.
2018 DAYTIME EMMYS: SOAP CENTRAL'S COMPREHENSIVE COVERAGE