According to an official-looking press release that has popped up on the Internet, Emmy-winning As the World Turns head writer Hogan Sheffer has been fired. His last date is reported to be Friday, July 2.
There's just one problem -- the press release is bogus. Or is it? It all depends on who you ask.
The release in question was posted on an Internet web site by an author who claimed that she had received it over the wire while working at a local newspaper. According to the post, the news was not to be made official until a later date.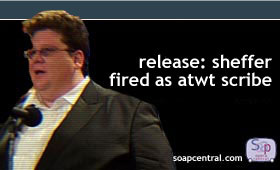 In the release, Mary Alice Dwyer-Dobbin, Executive-in-Charge of Production for Procter & Gamble Productions is said to have announced that current co-head writer Jean Passanante has been promoted to the top scribe position. Paula Cwikly, an associate writer for the show, was also said to have been promoted to co-head writer. Passanante and Cwikly's first date in their new positions was reported as July 5th.
"I'm thrilled with the new head writing team that we've assembled for As the World Turns," Dwyer-Dobbin is quoted as saying. "Jean and Paula are two very gifted storytellers, with a deep understanding of and respect for the fabric of the show."
The situation was made even more convoluted when FOXNews.com's web site reported that the press release was official. The site went on to say that Sheffer was dismissed because he refused to write storylines that encompassed the shows more veteran players. The article has since been removed from the web site.
The Sheffer incident is reminiscent of a similarly bogus press release that surfaced earlier this year in which ABC network execs supposedly announced the return of Emmy-winning actress Kimberly McCullough to General Hospital. That release turned out to be a very well-crafted hoax. (Full story)
Sheffer assumed the head writing position on As the World Turns in June 2000. During his tenure, As the World Turns has received four Daytime Emmy nominations for Outstanding Writing Team -- with Emmy wins coming in 2001, 2002, and 2004.
An official statement was unavailable from Procter & Gamble Productions. However, a show spokesperson assures Soap Central that the rumor is "absolutely untrue" and that Sheffer remains in place as the show's head writer.
In spite of P&G's assurances, rumors persist that the show is merely trying to do damage control because the news got out before the network was ready to address it. Skeptics cite the fact that Sheffer would technically still be the acting head writer for the show -- until July 5.
In related news, other online rumors claim that executive producer Christopher Goutman is also on his way out. The reports claim former General Hospital executive producer Wendy Riche will assume the helm. The online rumor is likewise not true.