Emmy-nominated Annie Parisse (Julia Lindsey) will be returning to As The World Turns just in time for the big November Sweeps period.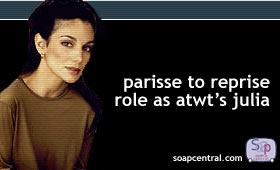 If the news is a surprise to you, you don't have to thank Soap Central for going undercover to expose the story -- for one reason or another the show actually made the big reveal on its official web site. The announcement has puzzled some industry insiders, who note that many programs have been taking huge measures to keep plot secrets... well, a secret.
Parisse was last seen as Julia in March, but her exit was more than memorable. Julia forced Barbara to drive her to an undisclosed location. There, before making her escape, Julia handed Barbara a pregnancy test that revealed that she was supposedly pregnant with Jack's child.
Parisse makes her return -- just in time for the November Sweeps period -- on November 1. Her return will be short-term.