The family feud could very well be on again.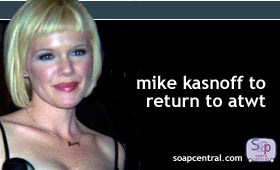 Mike Kasnoff, the man that half-sisters Carly Tenney and Rosanna Cabot once fought over, is returning to Oakdale. This time around, however, Shawn Christian will not be tackling the part. Christian, who played Mike from 1994 through 1997, is currently working as Ross at cross-town rival soap One Life to Live.
Mark Collier (ex-Josh, Sunset Beach) will assume the role this summer. A search for other work for the veteran of the now-defunct NBC soap turned up empty.
A first airdate for Collier has not yet been announced.