Being last year's big winner with a record-tying eight Emmy victories, there was a lot of expectation by fans and critics that As The World Turns would equal last year's performance at this year's Emmy ceremony.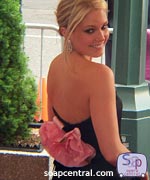 Going into Emmy Night, As The World Turns had already racked up four Emmy victories. Those four wins, all in the Creative Arts section of the ballot, positioned the show halfway towards equaling last year's record. As The World Turns wasn't alone, however. All My Children had also grabbed four Emmys in the technical areas.
Second only to All My Children in terms of total nominations, chances that As The World Turns would pick up an addition award or two were quite high.
Fans of As The World Turns had to wait through at least half a dozen categories before they got the chance to hear their show's theme music. Nominations in the Supporting Actor and Actress category went unfulfilled. The first win of the evening - a win that also turned out to be the show's only win of the night - came in the Outstanding Writing Team category.
Lead by head writer Hogan Sheffer and co-head writers Carolyn Culliton and Jean Passanante, the As The World Turns scribes were named the best writing team in the soaps for a second consecutive year.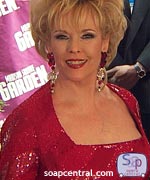 Hogan again flashed his self-deprecating humor upon taking the stage. The scribe wiped his brow and mused that his walk from the rear of the auditorium was the farthest he had ever walked. Then, as his acceptance speech drew long, Sheffer mused that, "Dick Clark is waiting backstage with an elephant gun."
Pundits had placed As The World Turns as the favorite to win a second-straight Outstanding Drama Series. In fact, in predictions on the Soap Opera Central web site, the consensus vote was also that As The World Turns would again be crowned as the best of the best. It came as quite a surprise when One Life to Live earned the top honors.
CLICK HERE FOR COMPLETE COVERAGE OF THIS YEAR'S EMMYS
---
2018 DAYTIME EMMYS: SOAP CENTRAL'S COMPREHENSIVE COVERAGE