Celebrated As The World Turns head writer Hogan Sheffer will be sticking around for some time to come.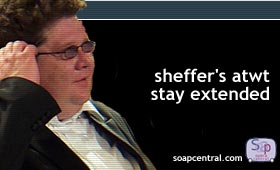 Though terms of the deal were not announced, ATWT sources have told Soap Opera Central that Sheffer has signed a new contract with the show.
Sheffer joined As The World Turns in June 2000. Within a year, Sheffer had turned the show around and ATWT garnered 25 Daytime Emmy nominations. Sheffer and his team of writers were rewarded with an Emmy for Outstanding Writing Team in last year's ceremony.
Prior to joining ATWT, Sheffer had had no previous experience in daytime television. His previous work credits included a stint at Dreamworks SKG where, for three years, he served as Director of Screenplay Development.