According to an insider, Craig Lawlor (Adam Munson) has been let go from As The World Turns. The departure is said to be "storyline dictated," or rather "lack of storyline."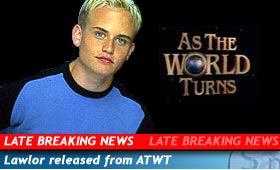 The New Jersey native was informed on Tuesday, April 2nd that his stint on the show would be ending, according to the source.
The news of Lawlor's exit comes almost one month to the day after it was announced that Tom Eplin (Jake McKinnon) would be exiting the show. Earlier this year, Kim Onasch (Jennifer Munson) was also written out of the show.
Lawlor joined As The World Turns in April 1998.
An As The World Turns spokesperson was unavailable for comment at "post time."