Emmy nom Annie Parisse back as Julia, 2002
By
Dan J Kroll

Posted Sunday, February 17, 2002 7:36:54 PM
Emmy nominated Annie Parisse (Julia Lindsey) will return to As The World Turns for a limited run beginning this week.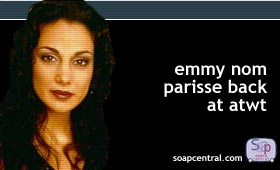 Parisse, who joined As The World Turns in April 1998, was last spotted in Oakdale on August 21st, 2001 when she tried to kill off Carly Tenney by pushing her into a patch of quicksand. Parisse was originally to have exited ATWT in March of last year after landing a spot on a primetime drama series, but that she was not picked up for the fall schedule and Parisse agreed to stick around.
Parisse was nominated for an Outstanding Supporting Actress award in last year's Daytime Emmy Awards.
Parisse will not be returning to the show on a full-time basis - at least not as the story is currently penned. She makes her first return appearance on February 20.
2018 DAYTIME EMMYS: SOAP CENTRAL'S COMPREHENSIVE COVERAGE