As The World Turns will feature a special "stand alone" episode on Thursday, February 14th.
The Valentine's Day episode will temporarily detour from the show's current plots. But rest assured that the show will pick up on Friday where Wednesday's regular programming left off.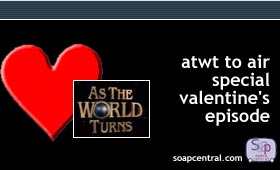 During the special episode, there will be some special musical numbers. Michael Park (Jack Snyder) will sing the old Jim Croce song, "Time In a Bottle." There will also be musical numbers from Eileen Fulton (Lisa Grimaldi) and Kristina Sisco (Abigail Williams).
In addition to the cabaret-like scenes, Lisa will also be reunited with eight of her past husbands and Richard Roland (ex-Jason Sheffield, All My Children) and Sally Mae Dunn will appear as a young Bob and Kim Hughes.
Another segment will feature a Cinderella-like fantasy for Bonnie McKechnie.