According to an ATWT insider Kim Onasch (Jennifer Munson) has been let go from As The World Turns.
Soap Central learned of the departure, which has apparently been brewing for some time, according to reports from at least one insider.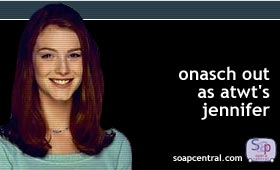 The insider tells Soap Central that Onasch and several of her co-stars "didn't get along." In addition to these allegations, the insider also states that the actress "repeatedly showed up late" for work.
An ATWT spokesperson had no comments on the source's comments.
If true, this would not be the first time that Onasch has been the subject of tension rumors. In September 2001, when it was announced that Onasch's co-star, Todd Rotondi (ex-Bryant Montgomery) would be leaving the show, Internet chatter claimed that Onasch and Rotondi did not get along.
On-screen, Jennifer Munson's budding modeling career will once again take her out of of Oakdale. This move will facilitate Onasch's exit.
Onasch joined the cast of As The World Turns in July 1999. She recently signed a new three-year contract with the show.
Onasch's final airdate is March 5th. An ATWT spokesperson states that the role of Jennifer will not be recast.